University of Michigan physicists contribute to discovery of 'Higgs-like' particle at CERN
Posted on Wed, Jul 4, 2012 : 4:13 p.m.
Scientists announced Wednesday morning at the European Organization for Nuclear Research (CERN) that they had discovered evidence of the Higgs boson particle, also known as the "God particle."
University of Michigan researchers played a significant role in the discovery, and some were on hand for the announcement.
At the seminar, attended by many of the top physicists in the world, two teams of researchers independently said they had seen evidence of a "Higgs-like" boson at the Large Hadron Collider in Geneva, Switzerland. The researches said they had reached five-sigma certainty, meaning there is a 99.99997-percent chance that they were successful in finding the particle.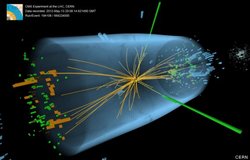 CERN
Michigan physics professor
Jianming Qian
led a team of more than 100 people from around the world as part of the ATLAS team at the collider. Qian's group monitored one particular form of decay as the team collided elements into each other at nearly the speed of light trillions of times.
Looking for this particle has been the main effort in particle physics for the past 20 years, Qian said. He has been personally researching the particle for the past 10 years, including 5 years spent in Switzerland at CERN.
Qian said that this particle is sub-microscopic and no larger than one femto-meter (10 to the negative fifteenth power).
"But the particle is 125 times heavier than a proton," Qian said. "It is impossible for us to see the particle because it disappears almost instantaneously."
The particle only exists for up to one yocto-second (that's 10 to the negative twenty-fourth). Scientists observed trillions of collisions in order to find situations where the decays indicated that the particle had existed.
Qian said 25 University of Michigan students and faculty were involved in the project on the ATLAS team, and about half of them were in Switzerland working with the collider.
According to a press release from the University More than 60 U-M undergraduate students worked with U-M scientists and engineers to design, build and operate vital components of the camera-like ATLAS detector that was one of the two detectors being used to look for the Higgs.