University of Michigan planning bachelor's degree in information studies for 2014
Posted on Tue, May 15, 2012 : 9:21 a.m.
The way the world disseminates, collects and consumes information is rapidly changing and the University of Michigan is seeking to expand its academic programs to reflect that shift.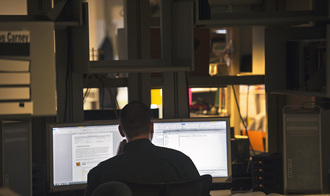 AP photo
U-M's School of Information and the provost office are petitioning the Board of Regents during its Thursday meeting in Dearborn to approve a new bachelor of arts and bachelor of science in information.
U-M currently offers master's and doctoral degrees in information. The School of Information was established in 1996, replacing the School of Information and Library Science.
"The radical transformation of our world by personal computing, the Internet and intelligent mobile devices is clear. Something of deeper intellectual significance has happened in tandem with the technical and commercial developments," U-M Provost Philip Hanlon and Jeffrey K. MacKie-Mason, dean of the School of Information, wrote in a memo to regents. "Information has crystalized as a genuine academic field of study that provides a coherent perspective on what makes information valuable, memorable and powerful in our lives and societies."
According to Hanlon and MacKie-Mason, the program will teach strategies for changing information flows, eliciting new or hard-to-gather information, making information accessible, and aggregating, presenting and analyzing information.
The proposed program was approved by Information faculty in February and, if approved by regents, would begin in the fall of 2014.
The School of Literature, Science and Arts currently jointly administers bachelor of arts and science in informatics, which 141 undergraduates were enrolled in last year. Those students take classes in LSA, School of Information and the College of Engineering and can specialize in data mining and social computing, among other things. Career choices for such students range from data analysis to e-marketing to algorithm engineering.
Another 381 students are enrolled in master-level degrees and 49 are pursuing their doctorates. Hanlon and Mackie-Mason said the new degree offering "will build on... initial exploratory efforts in providing information education for undergraduates."
Although bachelor's degrees in information studies are gradually becoming more common, many schools don't offer them. The highly ranked University of North Carolina at Chapel Hill information school offers a bachelor's degree in information science, but the similarly ranked school at University of Illinois does not.
This is the second degree expansion for the U-M School of Information this year.
In December the Board of Regents approved a new master's degree in health informatics, a field that leverages information technologies to maintain and improve health and patient care. That program begins this fall.