U-M Solar Car team earns first place at North American competition despite some unfavorable weather
Posted on Sun, Jul 22, 2012 : 1:40 p.m.
The University of Michigan Solar Car Team has won the 2012 American Solar Challenge with their car Quantum, making this the fourth consecutive win at the competition for the team according to a press release put out by the university.
The challenge is a 1,650-mile competition for solar powered vehicles, lasting eight days and running a course beginning July 14 in Rochester, N.Y and finishing in St. Paul, Minn. at 2:30 p.m., when the Quantum crossed the finish line.
The final time for the race was just under 45 hours.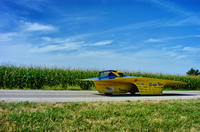 Photo from the U-M solar car website
Though the racers did encounter some less than stellar weather along the way, including two "intense" bouts of rain, according to the press release. The team was able to use the weather to their advantage and gain a lead on the other teams who were forced to slow down during the first storm. They did have to pull over a couple of times during the second storm.
"We've tested the car extensively in the rain, and each of our drivers has practiced in the rain, so that really gave us an advantage," said mechanical engineering student and 2012 lead strategist A.J. Trublowksi. "While our overall strategy stayed mostly the same, we definitely had to make some adjustments to adverse weather conditions."
Sponsors for the U-M Solar Car team include IMRA America, Michigan Engineering, Ford and General Motors.
The U-M team has won a total of seven titles since the event had its inaugural challenge in 1990 — which the team also won.