University of Michigan regents to vote on proposed extension of tenure probationary period
Posted on Thu, Apr 21, 2011 : 5:56 a.m.
The University of Michigan Board of Regents will vote later today on a proposal to extend the faculty tenure probationary period from 8 to 10 years after a semester of discussion.
University officials say extending the probationary period will not force any school or college to change how long it takes its faculty members to reach tenured status, but allows the schools and colleges greater flexibility with tenure.
"This proposal would not result in any changes to tenure itself, the functioning of tenure at the University of Michigan or the university's strong and enduring commitment to tenure," wrote provost Phil Hanlon in a letter to university staff. "It will simply give the governing faculty of each school and college greater flexibility in setting the tenure probationary period for their unit."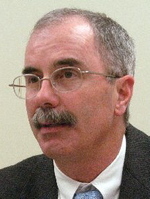 Hanlon first sought input on the proposal from university staff in February. Regents would need to approve a change to bylaw 5.09, which would increase the allowable upper limit on tenure probationary periods from eight to 10 years. The probationary period has not been changed since 1944, when the upper limit was changed from six to eight years.
Ben Allen, an assistant professor in the U-M Medical School, said he's not completely opposed to the change in the probationary period but believes there are questions about the change the university should answer before moving forward.
Allen said he had hoped the university would show a larger salary commitment to assistant professors, whose salaries are often only guaranteed for a certain time and often depend on grants. He said a larger startup package should be available to faculty members as they are beginning their research.
Allen said he would like to see a plan that would provide for promotion of assistant professors to associate professor or full professor prior to reaching the probationary period.
"The only thing being addressed at the moment is a one-word change," Allen said, adding that he wants to know how the university will compare faculty members who are being considered for tenure after different lengths of employment.
"My opinion is that the one-word change should be the last thing that happens. Everything else, addressing faculty being promoted and increased financial commitment to faculty that have longer-term research projects, all of those things should be committed to and have plans in place first before the change to the bylaw," Allen said.
The proposed change seems to be supported by the majority of faculty who responded to a university request for public comment, Hanlon said.
Hanlon said he had spoken with many leaders among tenured and non-tenured faculty and said he believed the change to the bylaw, if approved, would be viewed positively.
"There was significant participation in public comment … and overwhelmingly, those who responded supported the bylaw change," he said, adding that he had taken advice from opponents of the change as well.