U-M, EMU boards to decide 2012-13 budgets, tuition rates this week
Posted on Mon, Jun 18, 2012 : 12:51 p.m.
The University of Michigan Board of Regents will set next year's tuition, fee and housing rates at its monthly meeting Thursday.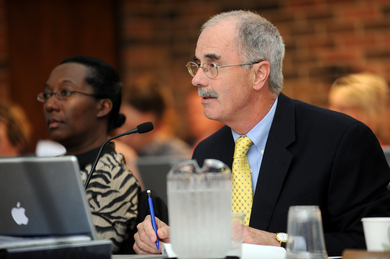 AnnArbor.com
The school will also introduce its fiscal 2012-13 university, health system and athletic department budgets.
Details on the new rates and budgets won't be unveiled until 3 p.m. Thursday, when regents meet in the Rogel Ballroom in Michigan Union. Tuition rates and budgets for the school's Flint and Dearborn campuses also will be discussed.
Additionally, Eastern Michigan University tuition rates, university budget and athletic department budget will be discussed Tuesday at the school's Board of Regents meeting.
U-M Provost Phil Hanlon said earlier this year that the tuition and fee increase "will be much more moderate" than the 6.7 percent increase in-state students experienced in 2011-12. Non-resident students experienced a 4.9 percent increase.
EMU resident students experienced a 3.6 percent increase. The average increase for in-state tuition at Michigan's 15 public universities last year was 7 percent.
If U-M and EMU want to receive a portion of Michigan's $9 million in tuition restraint state performance funding, they must not increase tuition above 4 percent, according to the 2012-13 state higher education budget.
Overall, tuition and fees for Michigan residents at U-M have increased 14.5 percent in the past four years. Over that time, resident tuition and fee rates have increased 7.6 percent at EMU.
In 2011-12, tuition and fee rates at U-M were $12,634 for residents and $37,782 for non-residents. That year U-M had the second-highest resident tuition rate of any state university; however, 10 state universities, including U-M Flint and U-M Dearborn, implemented tuition increases higher than U-M Ann Arbor's increase. The school's overall 2011-12 net price —including tuition, fees, books, housing and scholarship and grant aid— for first-year residents was $14,074.
Resident tuition and fee rates at EMU in 2011-12 were $8,684 and the overall net price for residents was $12,824 for first-year students.
Housing rates at U-M increased 3 percent last year, rising to $9,468. Over the past four years, housing rates at U-M have increased 10.2 percent.
U-M's 2011-12 general fund budget is roughly $1.59 billion, compared to $1.56 billion in general fund expenditures in 2010-11 and $1.47 billion in expenditures in 2009-2010. The 2011-12 athletic department budget is $121.2 million.
The current fiscal year ends June 30. July 1 marks the beginning of the 2012-13 fiscal year.