Traffic woes start early in downtown Ann Arbor as Art Fair sets up
Posted on Tue, Jul 19, 2011 : 2:35 p.m.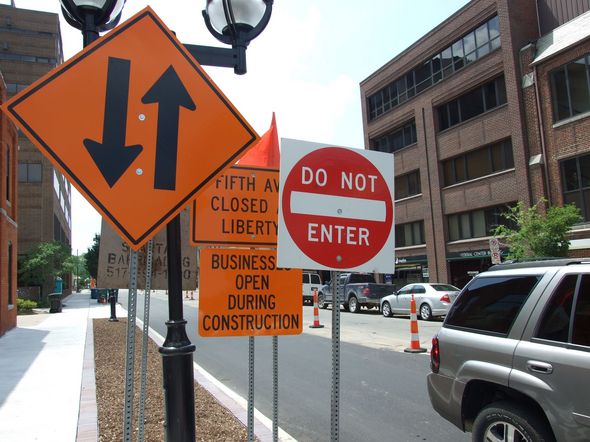 Ben Freed | AnnArbor.com

The Ann Arbor Art Fair may run from Wednesday to Saturday, but the associated traffic headaches started Tuesday in downtown Ann Arbor.

On set-up day, artists arrived in droves to prepare their stands, and streets were blocked off in preparation for the annual event, which starts at 9 a.m. Wednesday.

Traffic throughout downtown has been busy, according to Philip Boos, an Art Fair staff member in his third year with the fair. Boos was stationed at the corner of Main and Washington streets and said that the traffic is consistent with what he's seen in other years.

"Most of the locals understand what goes on," he said. "Some new artists aren't always sure which barricade means what, but we have signs up to help with that."

Jessica Pfieffer, who works downtown, knew how to avoid the rush.

"I got here before 7:30 a.m. because I knew downtown was going to be packed," she said. "And I'm going to be doing the same thing all week."

A 3-way blinking red light and confusing signs at Washington and Fifth Avenue added to the congestion. Cars could be seen running the light and blocking the intersection when the lines of traffic got backed up.

"The traffic was the worst during rush hour," said Kaite Brown, a first-year Art Fair staff member. "Especially with the AATA buses on Fourth Avenue."

But according to Janet Dombrowski, who came downtown with some out-of-town friends, the traffic had cleared by 11 a.m.

"We were able to drive in just fine, but it was probably a bad idea to come down here today," Dombrowski said. "It was very difficult to find parking. We went to the lot by Grizzly Peak, but it was full. We were able to find street parking, but we were very lucky."

The Downtown Development Authority manages most of the parking structures in the area. DDA deputy director Joe Morehouse said that despite some jams, people have been able to get where they need to be.

"I think all of our parking facilities are congested, but I don't think there's any detours around them," he said. "We haven't gotten any complaints from people unable to get to the structures."

Art Fair artists can rent a spot from the DDA for $100 for the week and store a trailer or other storage unit for the duration of the fair.