Semper Cop
With poll:

To err is human, so let's show other drivers some compassion

Posted on Mon, Mar 22, 2010 : 6 a.m.
Something I've noticed writing these columns for AnnArbor.com is that articles on traffic issues draw many comments. The comments on the piece, "Bicyclists and drivers need to look out for each other on Ann Arbor area roads," were terrific. 
I read a lot of venting that was educational to all who have an opinion on the subject. Perhaps it was some harmless "virtual road rage," but I think it was both healthy and educational for both sides. Let's keep communicating and start something here in Ann Arbor and Washtenaw County.
Let's become introspective and start thinking about our own driving habits. Are there things you do in traffic that are illegal, unethical or just plain rude? Would the roads be a better place if you settled down just a little bit? If the answer is yes, why not try to work on whatever you think would be easiest, but would have some beneficial effect on operators of all the vehicles around you.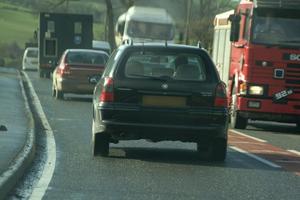 We are all human and therefore, none of us are perfect - especially when it comes to operating vehicles. Any vehicle requires some dexterity, operational knowledge, and judgment. 
Unfortunately, since we are merely human and not computers, we will not always be able to make the correct decision and flawlessly manipulate the various controls necessary to propel our vehicles from point A to point B. We will at times accidentally interfere, aggravate or unfortunately collide with other operators of vehicles. It is going to happen.
Why not try to change our perception while piloting various vehicles? Why not give yourself a pat on the back (with only one hand so you can continue to steer with the other) when you successfully avoid a collision or potentially dangerous situation? 
Instead of immediately getting angry at the other operator, take a few seconds and reflect that you make mistakes on the road too. Next time there is a mistake made, it may be yours. Hopefully those around you will have similar skills, like you just demonstrated, when you make your future mistakes.
Taking it one step further, when we as humans realize we have made a mistake, it immediately makes us feel stupid and self-conscious. We generally become defensive. Our reaction to the mistake will be somewhat dictated by the reaction of those around us. Â 
How would you feel for instance if you accidently cut someone off in traffic, looked in your rearview mirror and saw the other driver give you a smile, shrug of the shoulders and a friendly wave - using their whole hand instead of just one digit? Wouldn't you want to wave back in your mirror with a sheepish "SORRY" wave? Would that make the rest of your trip less stressful, pleasant and perhaps even brighten your day? We have that control over each other's day if we can practice some tolerance in traffic.
Let's go viral with this outlook on vehicle operation! Instead of road rage and the feeling that we need to "teach the other guy a lesson" by punishing him or her for the piloting error, let's instead give them a "no problem" wave and celebrate our own expertise in vehicle operation.  
Take a critical look at our own vehicle operation and vow to be safer and more courteous to others on the road. Take responsibility for your own actions on the road. Bring a positive outlook to the road we all must share. We can't control the actions of others, but perhaps we can set a safe, courteous and positive example.
Drive safely, use all available safety equipment, operate defensively, concentrate on your vehicle operation, be tolerant of others and stay positive. If you still feel the need to vent, I always appreciate your comments on this column.
Lock it up, don't leave it unattended, be aware and watch out for your neighbors.
Rich Kinsey is a retired Ann Arbor police detective sergeant who now blogs about crime and safety for AnnArbor.com.