Time capsule in new underground parking garage will document life in Ann Arbor in 2012
Posted on Fri, Jul 6, 2012 : 5:58 a.m.
What will Ann Arborites of the future think of us in the year 2112? Well, that partly depends on what they find when they unearth a soon-to-be-buried time capsule.
As part of the completion of the Library Lane underground parking structure on Fifth Avenue, the Downtown Development Authority is placing a time capsule in the floor of the garage, with expectations that it'll remain there for the next 100 years.
The DDA is putting the call out and asking members of the community to contribute items that say something about life in Ann Arbor in 2012.
Ryan J. Stanton | AnnArbor.com
That can be a ticket stub, a photo, a restaurant menu, or a simple note about a memory. Creativity is encouraged.
"It's a chance for all of us one day to be a piece of the history," said DDA Executive Director Susan Pollay. "So let's make it interesting for them and come up with some fun things. We're not limited by space."
Pollay said the idea was inspired by longtime Ann Arbor resident Ray Detter, chairman of the Downtown Area Citizens Advisory Council.
Detter has worked tirelessly to help DDA officials and others remember the past, to remember Ann Arbor as it was — even as we live here today, Pollay said.
The DDA is holding a grand opening party from 5-8 p.m. July 12 at the site of the new parking structure at 319 S. Fifth Ave.
There will be cake, music and a unique collection of vintage cars on display as a preview of the Rolling Sculpture Car Show.
DDA officials are asking members of the community to come out and bring along items for the cylindrical time capsule, which is about three feet deep with a 12-inch diameter.
"Some of the things that we've gathered, just to give you a sense — there is a Borders gift card, so we'll write up something about Borders: It was here, it came, it went," Pollay said. "But what was Borders and why was it important? It sort of gives us a frame of reference."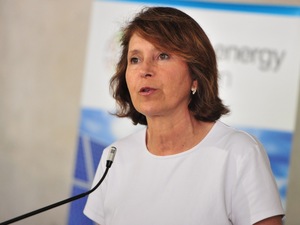 Ryan J. Stanton | AnnArbor.com
Pollay said notes will be written on acid-free paper.
Anyone wishing to contribute an item also can stop by the DDA's offices at 150 S. Fifth Ave. or email dda@a2dda.org.
Pollay said she may donate her copy of the specs for the $50 million parking garage so future generations can look back and say: "It was only that much money?"
DDA board member John Mouat, a local architect, joked at this week's meeting: "We need a Susan Pollay and John Splitt bobble head."
Splitt is past chairman and a current board member for the DDA and has been heavily involved in overseeing the parking structure project since it started in 2009.
Groups like the Ann Arbor District Library and Main Street Area Association are helping the DDA get out the word about the time capsule and encouraging people to contribute.
"I think a time capsule is a lovely idea" said Library Director Josie Parker. "As a formal contribution, I haven't decided yet what we might do."
Pollay said the capsule will be encased in concrete at the bottom of the Division Street pedestrian staircase. She said there will be a plaque onsite noting its location.