Paul Wiener | A Head in the Cloud
Column:

This Week's Web Picks: A list of lists; online exhibitions; vacation rooms of one's own; advancing the avant-garde

Posted on Sat, Jun 23, 2012 : 5 a.m.
What are the top 10 reasons we should revive the Dark Ages? It's a question I've rarely asked myself - until now. But maybe the 15 fascinating facts about salt are more compelling? Or the top 10 bizarre belief systems.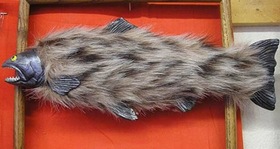 The famous fur-bearing trout, a cryptid.
New Zealand's James Frater created this site, mostly for fun, and partly, it appears, to attract advertisers who like to post diversionary material in their ads. In it over 1500 best, worst, fascinating and bizarre lists in many categories - food, crime, movies, science, etc. - are offered, with pictures and paragraphs explaining each entry in each list. Here's the top ten false cryptids. The NY Times and the BBC have featured Listverse. 35% of its readers are from abroad. Frater and his staff don't write everything: many lists are submitted by readers, after being vetted. I bet you've got a secret list or two you've been saving up... Entries aren't scholarly but they are well-written, intelligent and informative - and sometimes hilarious or creepy. The top ten Mass Graves. The top ten failed McDonald's products. Banned controversial album covers. Listverse has published books of its material. You can also subscribe to it, if your idea of fun is learning something strange every day. Web analytics have shown that virtually all its readers are younger than me. Now why is that? I don't believe it.
Archival Exhibitions on the Web
Don't be fooled by the small search box on this minimalist site. It addresses you like a blank but pretty greeting card needing the right occasion to be filled in, but it hides historical treasures all but invisible to the conventional seeker. Are you interested in the background to the song Auld Lang Syne? An introduction to Hokusai's exquisite art? No? Then surely one of the other 3000 exhibitions will get your attention. This site, which gathers permanent digital exhibits created by libraries and museums all over the world, was the love child of Andrea Bean Hough, and was continued and grown by Diane Shaw, both of the Smithsonian. All the online exhibits are beautifully mounted, using photographs, archives, charts, painting, essays, letters, drawings, music and posters to tell the small but wildly complicated, human stories of how the social fabric is knitted. For such a rich resource it's a shame that the only way to browse its contents is by keywording, but a few strokes in any direction will bring you the Civil War, snow shoes, a history of chocolate, the circus and many other topics given a local, specialized, expert spin. A link to the Smithsonian's many other digital collections supplements the serendipitous discoveries available from this unassuming site.
Say you want to take your family to Omaha for a long weekend to see the College World Series. Or to New Orleans for the French Quarter Festival. Or to Vancouver, or San Diego, or Copenhagen, just for fun. And you're sick of paying outrageous hotel prices, washing with microchip-size soap, walking down empty creepy antiseptic Twi-lit Zone halls, boxy furniture like the Mayor of Kazakhstan's secretary has, and $4 for a bottle labeled water or a $7. thimblefull of vodka. No! You want a 2-bedroom apartment - or a 4 BR house - with a good kitchen, a living room, a washing machine, wi-fi, maybe a balcony, and a rental agent who cares about where he lives, since most of the time he lives there. Well, no problem. With Airbnb it's easy to rent an apartment in almost any city or country you'd want to visit. You'll have a large selection of places, and can look for all kinds of particulars - number of bedrooms, price range, neighborhood, pool, parking, wi-fi, gym, doorman, even whether the renter has a social connection with you (hello, alumni!). Photos, client feedback and maps further help you decide. All the expected questions about legal issues, payment, protections and procedures are explained on the FAQs page. Which also tells you how to list and rent your own place, whether for 2 days or 2 months. So next time you feel like that long weekend in Madeira let Airbnb find you that home away from home.
Sometimes great art - and music, film, and writing - can be so boring. It's been forced on us since birth. It's too well known, too demanding. There are so many opinions, books, articles, lectures, attached to it. It seems to take your interest for granted. Enough! It's time again for the alternative stuff, the hidden infinity of fractional, regional, personal, experimental, incomprehensibly proud expression - fluxus, dada, surrealism, nihilism, the avant-garde, the counterstream, the postmodern, magical reality. Here is the history of Brian Eno's Obscure Records label. Discourses on ethnopoetics. Karl Holmqvist's recording The Weeping Wall Inside Us. Founded 100 years after the publication of Alfred Jarry's pioneering absurdist play Ubu Roi, UbuWeb continues to supply seekers of unconventional art with hundreds of links to music, videos, poetry, essays and unclassifiable arcana past and present to put stitches in the heart of every canonizer. And yet. As obscure as these artists are, who would doubt they'd turn away fame? Every one believes he or she breaks new ground and deserves his own era. Didn't Samuel Beckett, Charles Bukowski, Gertrude Stein and John Cage get theirs? Maybe Franck Leibovici will get his. Or Jaap Blonk.
Paul Wiener of Ann Arbor was a librarian for 32 years at Stony Brook University, in Long Island, N.Y., where he managed the English Literature, Art and Film Collections and taught internet research. He may be reached at pwiener@gmail.com.