Paul Wiener | A Head in the Cloud
Column:

This Week's Web Picks: the world changing in an eyeblink; ultimate pre-med; Stickman lives; Britannia rules the waves

Posted on Sat, Jun 2, 2012 : 5 a.m.
Editor's note: This is the next installment of a weekly column by Paul Wiener designed to point readers to cool or useful websites.

How much money was spent on weight loss programs in the U.S. today? I can't tell you exactly, since it increases by about $3,000 every second. But on this site you can watch a meter run the growing dollar figures in real time (it's more than you'd ever imagine).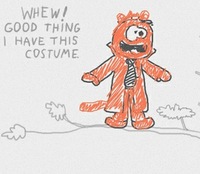 In fact, you can see dozens of "live" meters show increasing sums for all kinds of worldwide statistics on health, population, energy, food, the economy, and more. You see this the moment you enter the site. Even the slow changes seem fast.
How many newspapers are being circulated today? How many bicycles being made this year? Blog posts written today? Cigarettes smoked today? In nearly every case, the numbers are staggering.
Of course, the meters aren't measuring events in real time, but are only displaying calculated rates adjusted to baseline statistics. But it's the numbers changing before your eyes that transfix. Many of the search queries to the left of the meter are linked to their own page as well, where further details of the particular issue are shown (new book titles published this year). And each metered factoid is also linked to various documentary sources associated with the query (CO2 emissions this year).
If you need more, the site is also associated with USA Right Now, which meters common and peculiar events of life at home (cans of Coke drunk today). Those who think information isn't out of control need only watch these meters count the explosions.
Who hasn't always wanted to read his own x-ray? Or learn the pathology of porphyria cutanea tarda? (Remember The Madness of King George?) This site won't get you a medical degree, but it will let you play doctor until it's no longer fun.
Every day people consult one of many excellent, authoritative medical and healthcare sites on the web, like WebMD or the Mayo Clinic, often for desperately needed advice, referrals, and peace of mind or body. Few go to the sources of wisdom. This site, the creation of Dr. Michael P. D'Alessandro, provides hundreds of links to the things that educate the doctors: complete textbooks for every specialty, image collections, medical journals, case studies, professional societies, the Merck Manual, the PDR, PubMed Central, patient education resources.
Crowning the site are two search engines that help you pinpoint topical information among the hundreds of titles and acronyms, one for general medical and one for pediatric issues. It's perfectly fine if you don't understand 98 percent of what you can find here: that's part of the thrill of playing doctor. Understanding brain slices or the principles of gastroenterology may be heavy lifting for the dedicated hypochondriac, but if you feel your will start to weaken, just remember: it will probably improve with exercise.
It's time for a break with some silly, mindless fun. Exercise your inner, or outer, child for a few moments and draw something with your mouse. This site gives you a space to draw, with any amount of detail (or none) a stickman of your designing. It then animates him or her or it and puts him through a few dumb, simple adventures. In each scenario you have a add to your drawing, so that it continues until the end.
When it's done, you can look at it, re-run it, send it or forget it. Or try out a second, alternative episode. A gallery of self-submitted drawings by other hopeful mouse-keteers is available to draw your admiration, or scorn. Hint: make sure your stickman has legs. Not to worry: it's an app too. That's all, folks.
Who watches the news? The majority of Americans do, every day, but what do we watch, and why, and where? We still watch a lot of network and cable TV, but we also get the news from newspapers, radio, blogs, websites, social media and cell phones.
In 2010 the Pew Research Center developed detailed tables of who watches what. Limbaugh and Maddow are there; so are USA Today and C-SPAN. The BBC is not. Fair enough: Pew was studying the United States. But nearly every news source it studied is driven by advertising, politics and proximity. What if we had grown up watching news that was supported only by taxes and that truly covered the world?
The BBC has been doing that since 1922 (based on a mandatory television license that now costs about $232. a year). It's the largest news broadcaster in the world. Spend five minutes with it and you quickly realize there's a world of events and issues, and of ways of reporting them, that is truly foreign to us, a constant reminder of how much happens every day that most of us don't know. But it's never too late to grow.
Though most of us don't get it on our radios or TVs, the BBC's World News (in 27 languages), 11 radio stations, its podcasts, articles, streams, blogs, analyses, video, music programmes and concerts can be found online at any time. As with some of the sites I talk about, for optimum results your computer may need to be compatible with radio, video and flash display. Britain may no longer rule the world, but it can be a very generous ruler of the airwaves.