Concordia University Ann Arbor eyes expansion: More academic programs and maybe a football stadium
Posted on Mon, Oct 1, 2012 : 5:57 a.m.
Concordia University Ann Arbor is marking its 50th academic year this fall with a fresh face and a new direction.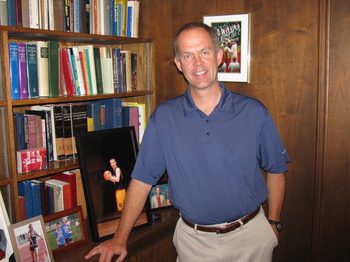 Courtesy photo
The private Christian university on the banks of the Huron River is
in the process of being merged
with its much larger sister institution,
Concordia University Wisconsin
, an 8,000-student school located in Mequon, 17 miles north of Milwaukee. While the merger won't be complete until accreditation from the Higher Learning Commission of the North Central Association of Colleges, changes are already under way. The merger is expected to become official in February.
With a dwindling student population and $18 million in debt, Concordia Ann Arbor was acquired in a deal approved last May by the Concordia University Wisconsin's (CUW) Board of Regents and the Lutheran Church-Missouri Synod's Boards of Directors. Under the agreement, CUW and the Lutheran Church-Missouri Synod paid off the debt, said CUW President Patrick T. Ferry, who also will serve as president of the Ann Arbor school.
"Over the last few years, Concordia Ann Arbor has been struggling to figure out how to set the course," Ferry said.
Concordia Ann Arbor has been losing students for the past four years, said Ben Limback, director of admissions, especially in its graduate programs. Peak enrollment was about 1,000 students in 2008. Enrollment this fall is just under 700, but includes the largest incoming class since the 1970s, Limback said.
Two separate campuses will remain, Ferry said, but there will be more efficiencies. "There will only be one back office, one administration," Ferry said. At the same time, courses offered on one campus can be streamed using live video to the other. This will allow Concordia Ann Arbor to expand its curricular offerings, especially in the pre-professional and science areas such as pharmacy and physical therapy, which are already offer at CUW.
New this fall to CUAA is a bachelor of science in nursing degree with more science programs to come, Limback said. "It's a whole new world here."
Because the Ann Arbor school is small, it has not been able in the past to offer these types of programs, Ferry said. "But you can't cut your way to prosperity. We need more academic offerings in Ann Arbor."
He also wants the Ann Arbor campus to attract non-traditional students while maintaining its traditional 18-to-22-year-old student base. About a third of CUW's population is traditional students, but another third is returning adults seeking a bachelor's degree and another third enrolled in graduate studies. He wants CUA to follow this model.
While these changes are on the horizon, Concordia Ann Arbor needs to improve its "curb appeal," Ferry said. The campus was spruced up over the summer, with improved athletic facilities, new sidewalks, renovation of one of the 12 residence halls, a remodeled cafeteria and landscaping.
More is to come, and the university will launch a $12 to $15 million capital campaign for new academic space, science labs and more athletic facilities, including a possible football stadium, Ferry said. "We're optimistic we will be able to turn it around. It has great faculty, great students and a great setting."
While CUAA has made cuts during the lean years, it will be hiring as new programs are added.
Founded in 1963 as a junior college, Concordia College Ann Arbor officially became Concordia University Ann Arbor in 2001. The 187-acre campus is along the Huron River at Geddes and Earhart roads. Undergraduate tuition is $22,000 with another $6,800 for room and board. The university is currently led by acting President Randall Luecke.