Take a bite of the block M: Michigan Pop-Tarts go on sale in September
Posted on Wed, Aug 22, 2012 : 1:57 p.m.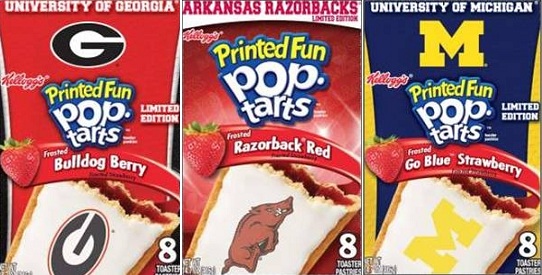 Die-hard Michigan fans: Could you eat the block M?

Thanks to Kellogg, you'll soon have a chance.

Kellogg will soon begin producing strawberry flavored "go blue" University of Michigan Pop-Tarts.

A Kellogg representative confirmed with AnnArbor.com the company is releasing Pop-Tarts emblazoned with the block M for faithful Michigan fans as a part of a limited release of collegiate logo breakfast snacks.

Now Wolverine fans can add a new pre-game ritual to their football Saturday routine this year.

Four other teams will be featured on one of America's favorite breakfast pastries, including the University of Florida, University of Georgia, University of Arkansas and University of North Carolina.

The limited-edition Pop-Tarts will be released early September and will be sold at local retailers and college bookstores.

"We're excited by our consumers' positive response," said Dick Podiak, Pop-Tarts marketing director. Podiak did not respond to inquires as to how Kellogg chose the five schools.