Swarm of bees stuns shoppers in Ann Arbor's Huron Village
Posted on Sat, May 12, 2012 : 5:42 p.m.
A group of shoppers at Ann Arbor's Huron Village got a surprise Saturday afternoon when a large swarm of bees flew over the parking lot of the east-side retail center.
Roger Falles was getting into his vehicle with his daughter, Anne, after shopping at Whole Foods at about 3 p.m. when the bees - which he described as a large cloud - suddenly surrounded his car.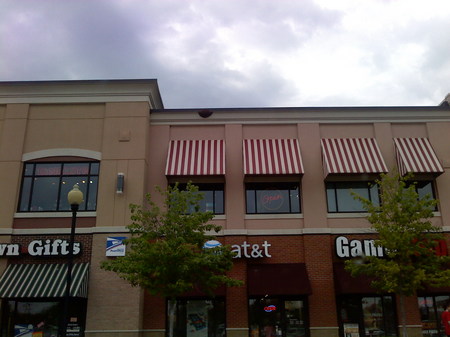 Roger Falles | For AnnArbor.com
"My first thought was killer bees," he said a few hours later, describing how he instinctively rolled up his window.
But the honey bees weren't dangerous - just traveling in numbers that startled him.
"It just looked like a wave of them coming through the whole parking lot," he said.
The bees - likely a cloud of at least 1,000 moving with a queen, based on entomologists' accounts of honey bee movement in the spring - then flew to the top of the multi-tenant retail building on the property at Washtenaw near Huron Parkway as the cloud dissipated.
"They seemed to pass through as quickly as they'd shown up," he said.
By the time Falles returned to see whether they were still there, they'd formed a tight ball above the AT&T store.
Falles said a neighbor raises honey bees and they come into his yard, where he's grown fond of watching them swim in his birdbath.
But the volume of bees that he saw for a few moments on Saturday was startling, he said.
He also noticed that people near his vehicle at the time the cloud rolled over the parking lot also seemed surprised to see them.
But, like Falles, they didn't panic. The bees, he said, seemed to strike them as both stunning but harmless, too.
"We just ... watched them, dumbfounded," he said.