Supporters of Ann Arbor city charter amendment accused of 'poorly disguised political stunt'
Posted on Tue, Jul 17, 2012 : 5:59 a.m.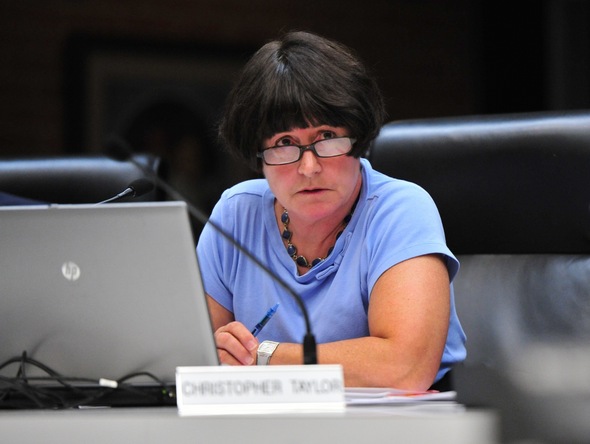 Ryan J. Stanton | AnnArbor.com
This story has been updated with new information on when the Park Advisory Commission might meet. Due to the primary on Aug. 7, PAC Chair Julie Grand says she's polling PAC members and council member sponsors regarding their availability for either Aug. 6 or 8.
The Ann Arbor City Council delayed taking action Monday night on placing a proposed city charter amendment on the November ballot.
Mayor John Hieftje and other council members pushed for postponement of the proposal to give the city's Park Advisory Commission a chance to weigh in first.
The issue is expected to go before PAC either Aug. 6 or Aug. 8 and then come back to the City Council for consideration at 7 p.m. Aug. 9.
The charter amendment would require special voter approval of any future attempts to repurpose city parks for non-park or non-recreational uses — such as a train station in Fuller Park, a proposal that's been under consideration for a few years now.
Ryan J. Stanton | AnnArbor.com
That's a step beyond what the city charter says under a 2008 amendment — that only the permanent sale of parks requires voter approval.
Sandi Smith, D-1st Ward, had strong words for fellow Council Member Jane Lumm and other supporters of the proposal, calling it a "poorly disguised political stunt."
She questioned the timing with the issue coming up right before the Aug. 7 primary in which two incumbent council members — Tony Derezinski and Margie Teall — are up for re-election.
"This isn't about parks," Smith said during a tense exchange with Lumm.
"It's not political," Lumm fired back. "It's being presented because, believe it or not, some of us really believe in this and this would strengthen the protection of parks."
The political opponents of both Derezinski and Teall spoke out publicly in support of the charter amendment Monday night.
Jack Eaton, who is running against Teall, criticized the council for putting off the issue until after the August primary.
"If you oppose this resolution because you're afraid that the voters may approve the amendment, then you're trying to circumvent the will of your constituents," he said.
Even if the amendment passed council and was approved by voters, Eaton said, the new protections do not prevent putting a train station in Fuller Park.
"It merely requires that you also get the approval of voters," he said.
Sally Hart Petersen, who is running against Derezinski, said when citizens approved the 2008 charter amendment requiring voter approval for the sale of parks, they didn't intend for council to be able to repurpose parkland without voters having a say in the matter.
Petersen said she conducted an informal poll of residents via email and found 70 who responded were in favor of the charter amendment and seven were against it.
Ryan J. Stanton | AnnArbor.com
"Among the no votes were comments that we should trust City Council to make decisions in the best interests of the residents. And so I urge you to do just that," she said.
The resolution to put the question on the ballot was sponsored by Lumm, Sabra Briere and Mike Anglin. Only Lumm and Anglin pushed for a vote Monday night, while Briere joined the mayor and others in lobbying for postponement.
Briere said she discovered that even with the changes being proposed, there still would be some loopholes in the charter.
"The city could contract with a company that professionally manages water parks to run public pools. Because it's the same use, a recreational use, it wouldn't need voter approval," she said. "The city could contract with a golf course operator to operate Huron Hills. Because it's a recreational use, the same use, it wouldn't need voter approval."
Briere added, "Because the city wouldn't be selling or engaging in a longterm lease or a contract, the city could build and own a fire station, a homeless shelter, a train station, or a parking structure on a park without voter approval."
Briere said she supported postponement to try to work out some of those details and she welcomed PAC's advice.
The discussion on the charter amendment included a few tense exchanges between Lumm and Smith, whose quarrel can be traced back to emails exchanged earlier in the day.
In an email to the city's administration, Smith posed a series of questions about the charter amendment and copied the entire council on the message.
Lumm responded by trying to answer Smith's questions and replied to the entire council. Smith then wrote back to argue that Lumm's comments should be reserved for a formal meeting discussion and that she was likely violating the Open Meetings Act.
Later at Monday night's meeting, Smith argued not enough information had been presented in advance of the resolution coming before council.
Ryan J. Stanton | AnnArbor.com
Lumm responded that she had tried to share information with Smith and just got accused of potentially violating the Open Meetings Act.
"I was just trying to be helpful, so you're damned if you do, damned if you don't, I guess," Lumm said during the discussion.
Lumm said the charter amendment was drafted with the help of Senior Assistant City Attorney Mary Joan Fales, whom she called "Thomas Jeffersonian in her efforts." She said the text also was approved by the state attorney general's office.
Hieftje said Briere raised some valid concerns, though. He said the worst thing council could do is put flawed language on the ballot.
"I am going to support the postponement to get this right," he said.
"I think having PAC input can only help," agreed Council Member Carsten Hohnke, D-5th Ward.
If the council doesn't vote on the resolution on Aug. 9, it still could act at its second meeting in August in time to place the issue on the November ballot.
Smith said there shouldn't be any rush, and she doesn't mind if the city misses the deadline for the November ballot.
"This is a charter amendment. This is our constitution," she said. "This is what we operate our city on. I cannot see the rush. I think it's an abuse really to go forward with it like this."
Lumm argued closing loopholes left from the 2008 charter amendment should be a priority, and she's hoping it will go on the November ballot.
"I believe the spirit, intent and expectations of the 2008 amendment were clear," she said. "Residents believed they were adding a layer of protection for parkland by ensuring the city needed voter approval before there would be any permanent, fundamental change in the use."