Ann Arbor Huron-Pioneer football brawl: Student suspension totals to be released Thursday
Posted on Wed, Oct 17, 2012 : 7:19 p.m.
District officials are waiting to release information on the number of players suspended from Huron and Pioneer's varsity football teams until Thursday.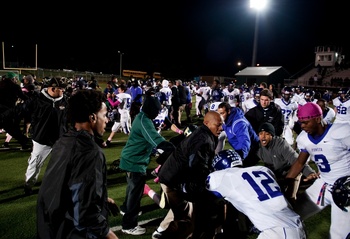 Daniel Brenner | AnnArbor.com
Ann Arbor Public Schools spokeswoman Liz Margolis said Tuesday the number of student suspensions would be shared Wednesday at the conclusion of the district's investigation. Details on the delay of the release were not provided.
"We're just trying to be very thorough in a messy situation and ask for everybody's patience," Margolis said Tuesday.
Any players ejected by referees for their postgame actions would be ineligible to play on Friday regardless of the district's action, but AAPS could suspend more players and extend pre-existing suspensions. The number of players, if any, ejected by referees is unknown at this time.
Sources have said multiple players were suspended from each team. Margolis could not confirm this information.
AAPS fired the Pioneer High School assistant coach who was accused of pushing Huron head coach Cory Gildersleeve, which started the brawl between players and coaches from both Huron and Pioneer Friday night. The shove came after Gildersleeve and Pioneer head coach Paul Test exchanged heated words mid-field.
Pioneer linebackers coach Robert Eanes also was facing a suspension for mouthing off to Huron athletic director Dottie Davis. But Eanes told AnnArbor.com Wednesday he would be permitted to coach after apologizing.