Student mentor programs help high school freshmen connect to new environments
Posted on Wed, Sep 5, 2012 : 5:57 a.m.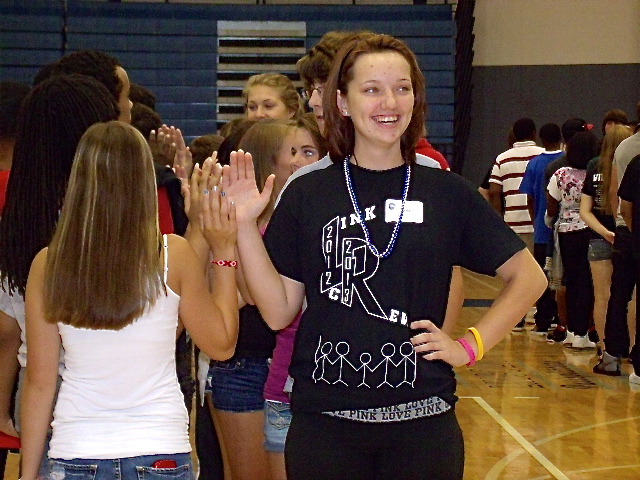 Courtesy of Laura Wynne

When members of the graduating class of 2016 walked through the doors of their respective high schools Tuesday morning, many Washtenaw County freshmen had a junior or a senior to wave to in the hallways.

Being the youngest class in a high-school setting can be intimidating. But one program that a growing number of districts in the county now uses was designed to help combat that and to make the transition from middle school to high school easier.

Link Crew was launched nearly 20 years ago in California, but in the past five to eight years it has experienced an insurgence of new participants from the Midwest, said Caroline Hill, co-founder and president of the Boomerang Project, the nonprofit organization behind the program.

Michigan is one state where Link Crew has seen a significant increase, Hill added. She said the program has been in the Detroit area for quite some time, but it began to trickle westward more recently.

The program is an all-day orientation event that pairs small groups of incoming freshmen with junior or senior leaders and mentors. The program provides a curriculum for schools to follow and a variety of suggested activities to help young students form bonds or "link in" with their upper-classmates.

Schools are encouraged to select juniors and seniors from all achievement levels and multiple social groups — some in athletics, math club, debate, drama or theater, band or choir and other varying interest areas — to give the upperclassmen a personal growing experience as well. The juniors and seniors are chosen through a competitive application process and go through up to three days of leadership training in some districts.

"We want a cross section of the student body — not just the academic elite, but every walk of life in a building to have a positive effect on the entire school and make the climate kinder," Hill said. "So we want schools to gather students different social, ethnic and language groups."

Hill said although it was not designed as such, Link Crew "is really the strongest anti-bullying program around."

"Freshmen need a sense of safety. They need to know they are going to be taken care of in this new place… Link Crew creates positive relationships. Upperclassmen are far less likely to bully (freshmen), and vice versa, when they've developed a strong mentor connection with them."

At North Farmington High School outside of Detroit, the district reported a 38 percent decrease in the number of Saturday detentions for freshmen, 30 percent fewer unexcused absences among freshmen, a 24 percent reduction in freshmen behavioral referrals and 19 percent fewer freshmen failing within its first year of the program.

In Washtenaw County, Ann Arbor's three comprehensive high schools have used Link Crew freshmen orientation programs for several years. Chelsea, Dexter, Saline and Lincoln high schools also have implemented it within the past five years.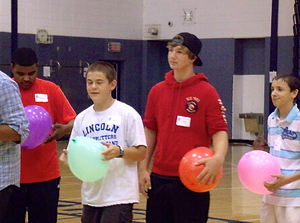 Courtesy of Laura Wynne
Lincoln school officials plan to start studying attendance data, tardies, behavioral referrals, test scores and other data this fall to see how Link Crew may or may not be impacting the climate and culture at Lincoln High School, said Rebekah Makarewich, science teacher and program coordinator for the school.
"We have some anecdotal data from teachers that it's helped at least somewhat with tardies because the ninth-graders are learning the school better now (with Link Creaw)," she said. "The freshmen also are more comfortable asking for help or directions."
This was Lincoln's third year using the Link Crew program, but officials felt the anecdotal data was strong enough and the culture and climate impacts great enough that they implemented a version of the transition orientation program, called Web ("Where Everybody Belongs), to help sixth-graders at the middle school, Makarewich said. Here, seventh- and eighth-graders serve as the leaders.
Makarewich said it has been great to watch the freshmen and upperclassmen interact each year. Last year, one of the girls in the LHS' Homecoming Court brought her freshman mentee from orientation as her escort to the homecoming football game, Makarewich said, calling this a true success of the program.