Michigan medical marijuana program hits backlog in first year
Posted on Tue, Apr 6, 2010 : 3:31 p.m.
Michigan's medical marijuana program has received more than 23,500 original and renewal applications in its first year, according to the state health department.
It has issued 12,322 patient registrations, and more than 5,200 caregiver registrations were issued.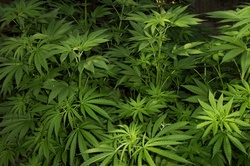 About 3,600 applications were denied in that time, largely due to incomplete applications or missing documentation, the state said.
Michigan's medical marijuana program has captured so much interest in the year since it started that officials have been dealing with a backlog of applications for months.
About 8,000 of the applications received are "backlogged," due to the growing number of applications, Celeste Clarkson, MDCH compliance section manager, told the Bay City Times.
Michigan's Medical Marijuana program is a state-registry program that requires all patients to have a designated caregiver to provide marijuana.
Voters approved a measure to legalize medical marijuana in Michigan on Nov. 4, 2008. The program began April 6, 2009.
To learn more about the program, visit the state's medical marijuana program Web site at: http://www.michigan.gov/mdch/0,1607,7-132-27417_51869---,00.html
To get information about a local health event or announcement mentioned in the Monday health briefs, contact reporter Tina Reed at tinareed@annarbor.com, call her at 734-623-2535 or find her on Twitter @TreedinAA.