Snyder signs bill opening door for corridor improvements on Washtenaw Avenue
Posted on Mon, Jul 2, 2012 : 7:30 p.m.
An initiative aimed at revitalizing Washtenaw Avenue and improving conditions for motorists, pedestrians and transit riders just received a big boost from the state of Michigan.
Gov. Rick Snyder signed into law House Bill 5142 to allow four local municipalities to create a corridor improvement authority to encourage investment along the corridor.
"I'm just very happy the Legislature and the governor took positive action on this because this will really benefit us, and it's a great example of regional collaboration," said Ann Arbor City Council Member Tony Derezinski, D-2nd Ward.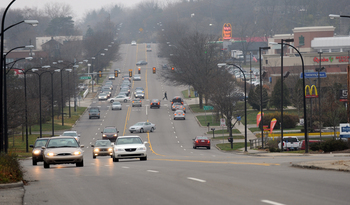 Lon Horwedel | AnnArbor.com
As part of the
Re-Imagining Washtenaw
initiative, Ann Arbor has been in talks with the city of Ypsilanti, Pittsfield Township and Ypsilanti Township about forming a joint authority.
But under the state's old Corridor Improvement Act, four or more municipalities could not create a joint authority.
They can now under Public Act 229 of 2012.
The legislation was sponsored by state Reps. Mark Ouimet, R-Scio Township, and Jeff Irwin, D-Ann Arbor. It allows multiple municipalities to join together to create special tax-capturing districts to redevelop commercial corridors at least 30 years old.
Ouimet said the changes to the law mean the most congested transportation corridor in Washtenaw County can become more walkable and less clogged.
"The new law will literally change the landscape of Washtenaw Avenue and help make our area more livable," he said, thanking Irwin for his support on the issue.
The new authority will be able to apply for federal highway improvement funds. It also can levy a special assessment, issue revenue bonds and notes, or create a tax-increment financing plan with a vote of its governing board, consisting of up to three members from each municipality.
The new law prohibits an authority board from adding a toll or user fees for any motor vehicle access to new or existing roads or bridges.
Local officials have been working toward creation of a corridor improvement authority for the 5-mile stretch of Washtenaw Avenue from Stadium Boulevard in Ann Arbor to the water tower in Ypsilanti for more than two years, but they ran into legal hurdles.
Derezinski and Terri Blackmore, executive director of the Washtenaw Area Transportation Study, went to Lansing to testify in support of the changes to the law.
When the legislation got hung up in the Senate, Derezinski and Kirk Profit, the city's lobbyist, went to personally talk with state Sen. Dave Robertson, chairman of the Local Government and Elections Committee. Soon after, it was on the committee's agenda and passed.
"We were very happy," Derezinski said.
The Ann Arbor City Council voted unanimously in December 2010 on a resolution of intent to create a joint corridor improvement authority. The three other jurisdictions did the same, but no final decisions on actually forming the authority have been made yet.
"I think it's possible. I wouldn't say it's a slam dunk," Blackmore said. "There's a lot of negotiation that still has to go on."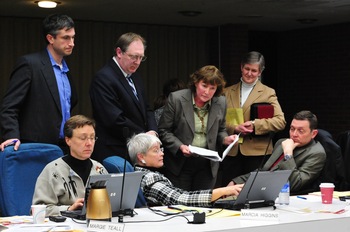 Ryan J. Stanton | AnnArbor.com
Derezinski serves on the technical committee for the Re-Imagining Washtenaw initiative, which has been meeting monthly to keep the ball rolling on the project.
"We're a couple of steps away from creating it, but at least we've taken the preliminary steps," Derezinski said, hesitant to say when it might come back before council.
Through Washtenaw County, the initiative landed a $3 million federal grant from the U.S. Department of Housing and Urban Development last November.
Blackmore said the corridor improvement authority will allow the four municipalities to implement a lot of the planning efforts that are under way.
Projects being talked about include a dedicated transit lane on Washtenaw, non-motorized improvements from Pittsfield Boulevard past the US-23 interchange to Carpenter Road and improved pedestrian crossings on Washtenaw, including across from Arborland.
County officials put out a request for proposals on June 22, seeking a consultant to take on a $251,000 study of future right-of-way needs for improvements along Washtenaw, including pedestrian crossings, transit super stops, bicycle lanes, shared-use paths, sidewalks and other transit amenities. The RFP notes the project area includes more than 100 acres of vacant or underutilized sites with significant potential for infill and redevelopment.
"The Re-Imagining Washtenaw Avenue corridor redevelopment project envisions retrofitting the auto-oriented suburban stretch between the cities of Ann Arbor and Ypsilanti into a sustainable transit corridor with unique places along the corridor," the RFP reads.
The county is planning to use a portion of the $3 million HUD grant for the study, which it wants completed by June 2013.
The RFP goes on to note the project will encourage redevelopment emphasizing mixed uses and compact design, providing a greater range of housing options and increasing investment in non-motorized connections and enhancing transit service.
Blackmore predicted there could be a number of consolidated bus stops — so-called "transit super stops" — along Washtenaw Avenue in the future.
"They'll have a big shelter and they may eventually have 'next bus' information telling you how long before the next bus comes," she said.