'Slow moving' process to find homes for former Camp Take Notice residents solidifies supporters' resolve to reopen camp
Posted on Sun, Aug 5, 2012 : 5:58 a.m.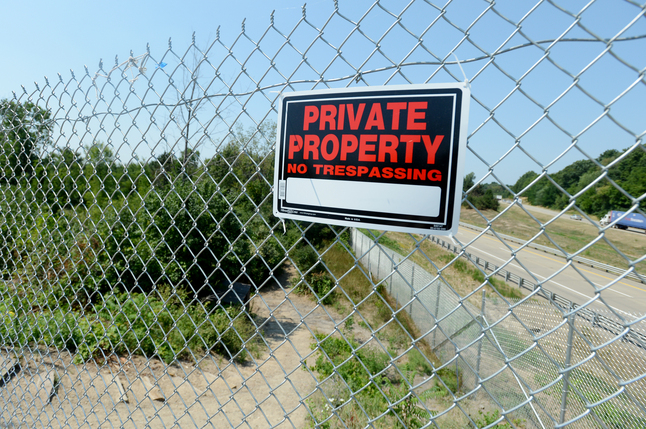 Melanie Maxwell | AnnArbor.com
The slow moving process to find new residences for former Camp Take Notice residents is not unexpected, but it does add fuel to a movement trying to restart the camp near Ann Arbor.
Out of the 40 people who were given one-year rent subsidies when they were evicted in June from the homeless camp on state land in Scio Township, more than half have yet to find a new residence. However, the exact number of former campers who have been housed varies based on who is speaking.
Ellen Schulmeister, executive director of the Shelter Association of Washtenaw County, said 16 or 17 former Camp Take Notice residents have been housed with seven to 10 waiting for inspections to be completed before they can move in. Brian Durrance, a board member of Michigan Itinerant Shelter System-Interdependent Out of Necessity (MISSION), said 12 or 13 people and about four more are very close to moving into a new residence.
Durrance said it's been a frustrating experience waiting for residents to get housed, but he's learned even more about the issues homeless people have to endure in order to get housing. Bad credit, criminal histories and financial insolvency mixed together can make it nearly impossible for the former campers to get new residences, even with state backing. That's why Camp Take Notice needs to reopen, he said.
"We are still trying, still determined to reopen the camp," he said. "We're still determined to address the needs of people in Ann Arbor who are homeless. We are working as fast as possible to reopen the camp on the original land or somewhere different."
Camp Take Notice has existed in one form or another since 2007, having settled and been evicted from five locations during that time. The first location was behind the Mallet's Creek branch of the Ann Arbor District Library. From there, the camp moved behind the Meri Lou Murray Recreation Center in County Farm Park before moving in 2008 to the wooded area behind the Arborland Shopping Center. In April 2009, the camp was evicted from that location and moved to behind the Park And Ride lot near Interstate 94 and Ann Arbor-Saline Road.
A year later, the campers were again evicted from that location and moved to the Scio Township site off Wagner Road between I-94 and M-14, where they stayed until June.
Currently, former campers are staying at the Delonis Center in a temporary shelter set up just for them. Schulmeister said the temporary shelter is different than the temporary warming center set up during the winter when homeless people can come in for the night and then leave in the morning. Instead, former campers are allowed to stay in the building all day — provided they remain sober — and receive any services they need.
The main shelter at the Delonis Center has 75 beds that come with services, meaning that the people who stay there have access to drug and alcohol counseling, financial counseling and other services that will help them get back on their feet. It's not the typical mission-style shelter that might have 100 beds that are filled at night and then emptied in the morning, Schulmeister said.
The 75 beds in the main shelter are usually full, as they are in many shelters around the country, Schulmeister said.
Camp Take Notice
Here are some stories from AnnArbor.com's coverage of Camp Take Notice
The 40 people who were given rent subsidies were all assigned a case manager and have worked with them to find new housing, along with any other service at the Delonis Center, she said. There are about 17 to 19 people who are staying in the special set up on a regular basis and no more than 22 have been there on any given night, she said. About 50 people regularly stay in the same room during the winter. She said each former camper has about three feet of space from the nearest resident.
Durrance said between 68 and 72 people were in the camp at the time of eviction on June 21. State officials said 40 people were given vouchers because that's how many people were in the camp when the plan was formed.
Given the background issues many campers have, the delay in finding a new home is not unexpected, Schulmeister said.
"This is normal. The folks we're talking about here have some of the more difficult issues to overcome," she said.
She added, "Everyone is interested in getting help, but it's not an easy process and you have to be willing to go through the process."
About $300,000 is available for the rent subsidies, according to Schulmeister, who added that's a ballpark number.
The campers and their supporters haven't taken the decision to clear the camp lightly. Protests were held at the old campsite off Wagner Road near Jackson Road last week and staffers working for Gov. Rick Snyder were bombarded with protests at mobile office hours in late July.
Remnants of last week's protest at the old campsite are still visible on the 8-foot, chain-link fence that lines Wagner Road and about a quarter-mile of eastbound M-14 — pieces of threads that held signs waved in the wind Friday afternoon next to the multiple "No Trespassing" signs. The fence serves as a metallic wall separating the wooded area between M-14 and Interstate 94 from the rest of the Scio Township area.
The fence was erected by the Michigan Department of Transportation as a barrier to anyone thinking of resettling on the site.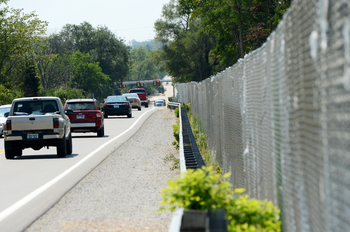 Melanie Maxwell | AnnArbor.com
Sally Harrison, director of rental assistance and homeless solutions for the Michigan State Housing Development Authority, said the long process is the reason why the state provided funding to the Delonis Center to keep the temporary shelter open. Harrison said there's no cut off date for the grant-funded program but the hope is that all 40 of the former campers with subsidies will have new homes by the end of August.
Harrison said she's very pleased with the way the process has gone to this point — given the challenges many people have, having so many people housed five weeks after the camp was cleared is a success. Her latest update on Monday showed 16 people had been housed and 10 more were waiting for inspections of their new residences to be completed in order to move in.
While sleeping on a mat at the Delonis Center and trying to find a new home for weeks at a time isn't an ideal situation, Harrison urged patience
"We were hoping (people would find homes) as quickly as possible, but that's one of the reasons we provided funding to the Delonis Center: We knew it would take some time," she said. "There's no cut off date, the grant is for extended funding in the event people don't get one until September. … It is a challenge when people have poor credit and criminal histories to find housing."
But, Durrance said the fact that about 24 people from the camp — plus the many others who had no subsidy or other options after the eviction — have not been housed yet reinforces the need for Camp Take Notice.
He said people are still being referred to MISSION and there are more and more people coming into the Ann Arbor community with no place to go.
While the camp might have been an imperfect solution, it offered community and protection for people who might have otherwise been turning to crime, he said. There's hope that supporters of the camp will purchase land for a new camp, or that a local church group might allow a camp to be formed on its land, he said.
Any decision on a new Camp Take Notice will come after the end of the month, he said.
Despite the fact that the Michigan Department of Transportation is adamant about not having another camp on its land, Durrance said the need for the camp remains.
"We need to rebuild the camp as quickly as possible," he said.