Michigan Daily :

Patchy cell service at Michigan Stadium impedes new student loyalty program during Air Force game

Posted on Tue, Sep 11, 2012 : 9:22 a.m.
When more than 110,000 people gather in small area not regularly populated by such large crowds, cell phone service is bound to be patchy at best.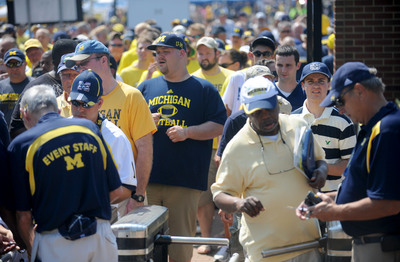 At
Michigan Stadium
, unreliable cell service is common. But for students using
University of Michigan
's
smartphone-based student loyalty program
, that's a problem.
The Michigan Daily reports that patchy service during the Michigan v. Air Force game prevented some students from checking into the game through the loyalty program mobile app.
The app requires students to check in upon arrival and uses GPS devices to confirm a student's location. Students receive loyalty points for attending athletic events and can earn prizes, including T-shirts and preferred seating.
"Historically, cell service and data is slow in the stadium with all those people in such a small area," athletic department marketer Angela Thick told the newspaper.
The Daily reports that the department can track student attendance though tickets scanned at the gate and that officials plan to contact students enrolled in the student loyalty program to confirm they received their points.
It's likely cell phone service won't improve in the Big House without action by the department, and Thick told The Daily U-M is looking into options to improve coverage.
If mobile coverage is inadequate, students enrolled in the loyalty program can also check in at an I-Pad station at Michigan Stadium.
This is the first year U-M has employed a student loyalty program.
Read the full Daily report here.