Associated press:

2nd Michigan death reported from West Nile virus as U.S. officials brace for spike

Posted on Thu, Aug 23, 2012 : 2:33 p.m.
Less than a week after an elderly Washtenaw County woman became the first person to die in Michigan this year from West Nile virus, state officials reported Thursday a second person has died and 18 additional cases have been reported in the past week, the Associated Press reported.
The second death occurred in Detroit. Overall, 41 West Nile cases have been recorded in Michigan this year, according to the Michigan Department of Community Health.
The announcement comes a day after federal officials reported four times the number of usual West Nile virus cases in the current U.S. West Nile outbreak.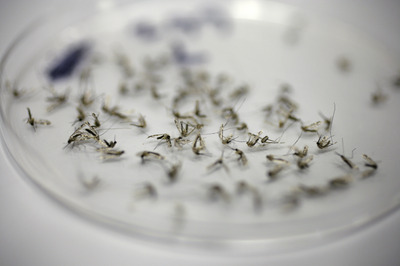 Evans Caglage | AP Photo/The Dallas Morning News
This
summer's hot, dry conditions
were perfect for the
Culex
mosquito that is responsible for transmitting West Nile from birds to humans.
Unlike some species of mosquito, the Culex mosquito prefers stagnant water in which to lay eggs.
The warm weather shortened the time it takes for larvae to mature, and hastened the growth of West Nile in the body of the mosquito.
The virus can cause a mild to severe illness — including encephalitis or meningitis, which are inflammations of the brain — in humans and other animals.
People age 50 or older are more at risk for West Nile virus. Symptoms of severe infection include headache, high fever, stiff neck, disorientation, convulsions, muscle weakness and paralysis.
Nationwide, 1,118 people have reportedly been sickened by West Nile and 41 people have died this year.
Typically, less than 300 cases are reported by the middle of August.
Officials have expressed worry that changing weather patterns will mean that West Nile virus peaks will continue to lead to high numbers of West Nile case in future years, USA Today reported.