U-M seeks to speed up $14M renovation to Yost Ice Arena
Posted on Mon, Oct 10, 2011 : 12:26 p.m.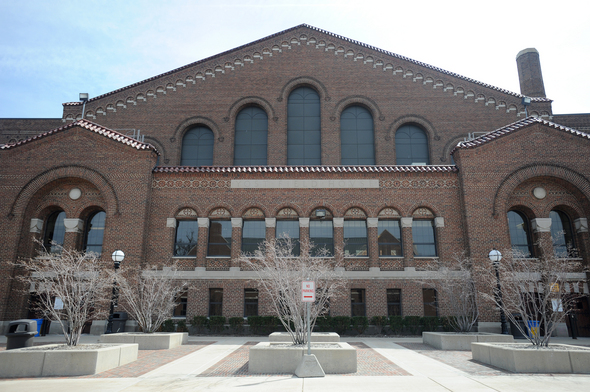 Angela J. Cesere | AnnArbor.com
The University of Michigan Athletic Department is looking to speed up the construction process for Yost Ice Arena, which is undergoing a series of facelifts this year.
The schematic design for a $14 million renovation of the ice arena will be put to a vote before the U-M Board of Regents at their meeting on Thursday at U-M's Flint campus.
The regents approved the renovation project in June.
Also before the regents is whether the athletic department can award early procurement packages to allow certain aspects of construction to begin immediately, rather than waiting for approval to receive bids and award construction contracts.
According to the athletic department, speeding the construction process up is necessary in order to reach the scheduled completion date of fall 2012.
The renovation follows the June installation of a new LED scoreboard with nine video boards. The scoreboards were part of a $20 million project to replace the decade-old scoreboards at Yost, Crisler Arena and Michigan Stadium.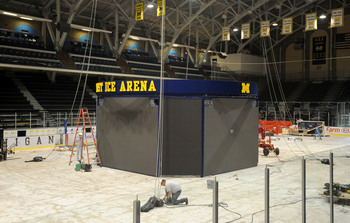 Angela J. Cesere | AnnArbor.com
The proposed renovation will replace the majority of spectator seating and includes improvements to the east and west concourses. A level-four media balcony will be converted into a series of luxury boxes and new level of seating on the arena's west side will be created for media.
Corner and stair platforms will be created for additional seating, exterior windows will be replaced and the fire alarm system will be upgraded.
During construction, several parking spots will be obstructed, limiting parking near the arena this season. However, there will be no permanent parking loss due to the construction.
The project will be funded by the athletic department, according to a memo addressed to the board of regents.
Yost was built in 1923 and has served as home for the Michigan hockey team since 1973. The 6,637-seat arena was renovated in 2001 to add a club-level balcony on the east side. In 1996, a $5.5 million renovation remodeled seating, locker rooms and administrative offices.
Kellie Woodhouse covers higher education for AnnArbor.com. Reach her at kelliewoodhouse@annarbor.com or 734-623-4602 and follow her on twitter.