Three finalists chosen for new Saline police chief
Posted on Wed, May 30, 2012 : 6:33 p.m.
Saline's search for a new police chief is now down to three finalists who will be interviewed by the City Council in a work session early next month.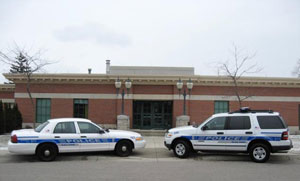 Courtesy of the city of Saline
City Manager
Todd J. Campbell
said in a news release Wednesday that the three finalists will be interviewed by the full council on June 9 beginning at noon.
The city has been interviewing candidates following the retirement of Paul Bunten at the end of last year.
The top three candidates are retired police Chief Larry R. Hrinik of Davison Township, Director of Public Safety David C. Northrop II of Sturgis and police Capt. Gerard S. Schlerinck of Troy.
Current interim Saline police Chief Mike Lindman was among the top five candidates, but didn't make the top three. Northrop was a late addition.
"The hiring committee is pleased to present three top-notch candidates to the Saline City Council, police department, and community at large," the news release said.
That committee was made up of Mayor Gretchen Driskell, Council Members David Rhoads and Brian Marl, city of Chelsea police Chief Ed Toth and Campbell.
Campbell said each candidate possessed unique experiences and strengths, but "all three understand and value the unique identity of Saline."
The interviews, which are open to the public, will begin at noon with the first candidate. The second interview is expected to begin at about 12:45 and the third at about 1:30 p.m. Following the interviews, according to the release, all three candidates will participate in a "meet-and-greet" at 2:30 p.m. in the council chambers.
Candidates will then have a chance to talk with members of the Saline Police Department at 3:30 p.m.
This is "a time intended to maximize participation by all three shifts of employees," according to the release.
After which, residents and police are invited to complete a reaction form, which will be reviewed by the City Council before a chief is chosen.
Council will hold a special meeting on June 11 at 7:30 p.m. for a formal vote.
For more Saline stories, visit our Saline page.