Saline school board President Lisa Slawson will not seek re-election
Posted on Mon, Jul 30, 2012 : 6:43 p.m.
Despite stating she was running for re-election at numerous school board meetings, Saline Board of Education President Lisa Slawson announced Monday she has changed her mind.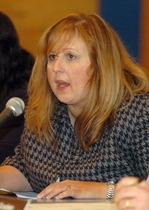 "There is no real earth-shattering reason, I was just talking to my family and … with work and things in my personal life, I really felt that making a commitment for a another six years was going to be difficult," said the two-term board member.
The seats occupied by Slawson and Vice President Chuck Lesch are up for re-election in November. Both Slawson and Lesch now have stated they will not be running for another term.
Lesch, who was elected in 2008 with Slawson, will wrap up his first term in December.
The Saline Board of Education voted in favor of switching to a six-year term for trustees in March, after a new state election law mandated all school board elections must take place in November of even-numbered years.
The switch from a four-year board term was controversial and sparked a spirited discussion in Saline. The proposal to lengthen trustee terms was passed 5-2. Slawson approved the change; trustees David Holden and David Zimmer opposed it.
Slawson, who has a freshman son at the high school, said she fully intends to stay active in the district. She described her role on the board as one of a "facilitator and a bridge builder."
"My focus has always been on what is best for students," Slawson said. "The community elected me for eight and a half years, and I am always going to be honored and humbled by that…
"I am proud of the accomplishments and advances the district has made while I have been on the board. … It has been an honor to serve with 17 trustees and work with three superintendents over the years."
So far, two people have filed affidavits of identity with the County Clerk's Office to run for the Saline Board of Education: Diane Friese, 64, of Pittsfield Township, and Smita Nagpal, 44, of Saline. Nagpal is the director of programs development and co-owner of Still Waters Counseling in Saline. Friese is a local author and illustrator of children's books.
Saline resident Dawn Ducca also expressed an interest in running at a recent school board meeting, but has not filed an affidavit yet.
The deadline to file as a school board candidate for November's election is 4 p.m. Aug. 14. Candidates may still withdraw up until 4 p.m. Aug. 17.
Current Dexter Area Schools Board of Education President Larry Cobler filed Monday for re-election.
Two candidates also previously filed for the sole open trustee position on the Ann Arbor school board: Incumbent and current President Deb Mexicotte and Scio Township resident Dale Leslie.
Current Milan Area Schools board President John Leacher also has filed to run for re-election.
Staff reporter Danielle Arndt covers K-12 education for AnnArbor.com. Follow her on Twitter @DanielleArndt or email her at daniellearndt@annarbor.com.