Saline Potters Guild provides a place for ceramic artists to share ideas, inspiration
Posted on Sun, Oct 31, 2010 : 2:30 p.m.
Thanks to Two Twelve Arts Center, the growing community of ceramic artists in the Saline area now has a place to call home.
It's not your typical potters guild, which charges members for the use of workspace. Instead, the Saline Potters Guild organizes monthly meetings for potters to exchange help and ideas and to inspire one another at Two Twelve Arts Center. It's also free to participate.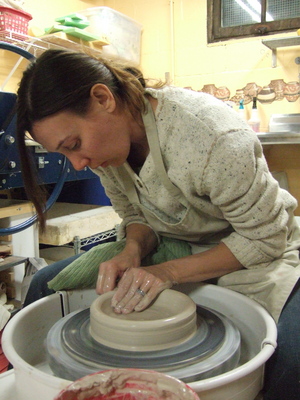 Tara Cavanaugh | For AnnArbor.com
Sharon Graf-Horning teaches pottery classes at the arts center, and she helped form the guild this summer with Marjie Bovee, the director. "We felt it would be appropriate to have a meeting on a regular basis where people could come and share things they love and things they hate. Things that excite them, things they're having trouble with, to encourage other people to try new things and also help with problem solving and answers." Graf-Horning said.
Graf-Horning especially encourages members to bring in work that they don't like.
"Because you went into it with certain expectations, and when it doesn't meet those expectations, like the glaze doesn't do what you want it to do, then you get disappointed and you don't like the piece. But if you give that piece to me or someone else, I never had those expectations," Graf-Horning explained.
"So many times people will bring in a piece they hate and we'll all say, That is fabulous! How did you do that?"
The guild meets the last Thursday of every month at 7 p.m. at the Two Twelve Arts Center. It has16 members so far.
"When you're working alone, you can get kind of stuck," Graf-Horning said. The guild is a way to keep potters feeling inspired.
In addition to exchanging ideas and feedback at each meeting, the members also view demonstrations from potters in the area and receive a challenge. The challenge for the October meeting was "flow," so members brought in a piece of work that represented the idea of flow.
The Saline Potters Guild gave demonstrations during the Saline Art Walk from Oct. 22-24. Suzanne Poulton, an instructor at Two Twelve and a member of the guild, made a bowl on the pottery wheel.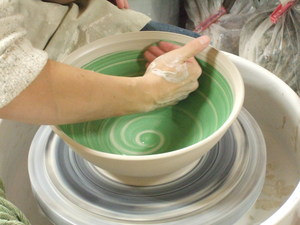 Tara Cavanaugh | For AnnArbor.com
She placed clay on the wheel and wet it with a sponge. As the wheel turned, she shaped the clay into a tall cylinder, a rounded slab, a tall cylindrical bowl with high straight edges, and then angled the edges inward to take the shape of the bowl. She made it look so easy, but she's worked with clay since 2002.
It's not easy. "Every step of the way in pottery there's the possibility for something really exciting or really horrible," Graf-Horning said. After the clay is shaped, the potter needs to bake it in a kiln, let it dry, and glaze it. Depending on the type of clay, the desired effect, and the amount of moisture in the room, the clay may need to be baked or glazed more than once.
The guild helps members talk about all of the options for every piece, which keeps them inspired and helps them improve as potters.
"I tell people, as long as you have a desire to get dirty, and get out of your element, you're going to have fun, you're going to improve," Poulton said as she poured green paint out of a ketchup bottle, spinning it into the bowl on the wheel.
"Pottery—unlike drawing and painting where I always felt people had to have this like artistic skill, an eye for things—pottery's just practice."
The next meeting of the guild is Nov. 18 at 7 p.m.. The meeting is early this week because of the Thanksgiving holiday.