Saline police Chief Larry Hrinik settling in, looking ahead after 3 months
Posted on Sun, Oct 7, 2012 : 5:57 a.m.
After nearly 20 years as a police chief in Davison Township, Larry Hrinik retired earlier this year, played a couple of rounds of golf and relaxed. But, it quickly became apparent that the time wasn't right to live the life of a retiree.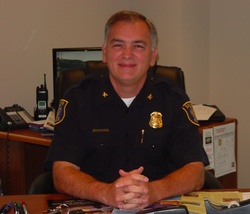 Courtesy of Saline police
One day, he looked at his wife and told her he wasn't quite ready to retire yet.
On Tuesday, Hrinik celebrated his third month in charge of the Saline Police Department.
He's spent much of his time since July 2 studying his new department and getting the lay of the land before figuring out where he wants the department to go next. Now, with that transition phase mostly complete, Hrinik's impressed with his charges.
"What I'm seeing is very good," he said. "I'm very happy with the department. It's very strong with its community efforts and with community involvement."
Hrinik came to Saline after spending just less than 19 years as police chief in Davison Township. He spent nearly 20 years working in the Buena Vista Police Department, near Saginaw, where he rose to the rank of sergeant.
With the transition phase mostly over, having settled into a new routine and learning the ins and outs of the department, Hrinik is turning his attention to things he believes are missing in his department.
Among those items are Tasers, which he called an "essential" piece of equipment. He pointed toward an incident last month where a 15-year-old boy wielding a knife confronted police officers and fled on foot. Eventually, the teen was taken down by Pittsfield Township police officers, who used a stun gun to stop him.
Saline police officers do not currently carry Tasers and Hrinik said officers have raised that concern to him since his arrival. However, with police budgets around the state squeezed, funding might be hard to come by.
"We're looking at grants, maybe doing a fundraiser of some type because this is almost an essential piece of equipment for police nowadays," he said. "So, we're going to try and act very quickly to get that done to get those tools in their hands."
Hrinik said he's trying to run the department like a team and he's changing up his approach toward officers. When he worked in Davison Township, Hrinik rarely saw the officers who worked the third shift, or overnight shift, because of the way shift changes were set up.
He said that's changed in Saline. Now, he comes in every day at 8 a.m., giving him an opportunity to see the overnight officers in addition to the morning and afternoon shifts. He said it's the first time in his career as a chief he's gotten a chance to be working with every officer in the department.
"It's nice to see those third shift people because I think sometimes the third shift people feel isolated because they don't see administration," he said. "It's good to come in and see them every day. I like listening to the stories and some of the history that's happened here."
Hrinik said he's leaned on the sergeants since arriving in Saline, and he often discusses goings-on at the department with patrol officers and Detective Don Lupi as well.
While he's the head of the department, Hrinik said he knows he's no longer as connected to what's going on out in the field as he was when he was a sergeant or an officer. He said that's why it's crucial for him to involve his officers in the decision making process.
"I'm not in a patrol car any more. I'm not involved in the day-to-day operations anymore. They're the ones doing that," he said. "I want to hear their input so I know what's really happening instead of what I perceive is happening. For some people, perception can be reality, but I like to get their input."