WILX with video:

Man who said MSU hockey team beat him now accused of assaulting girlfriend

Posted on Thu, Sep 20, 2012 : 3:15 p.m.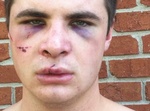 Courtesy of Barb Carmack
The Saline man who claimed he was beaten up by the Michigan State University hockey team is now accused of stalking and assaulting his ex-girlfriend, according to a report from the Lansing television station WILX.
Brandon Carmack, 20, allegedly showed up at an East Lansing house the first week of classes looking for the ex-girlfriend, the station reported. The woman said she was at a gathering there with roommates, friends and members of the MSU swim team. According to a personal protection order, the ex-girlfriend said Carmack was intoxicated, demanded to see her and barged into the house.
The woman said some men stepped in when Carmack grabbed her by the neck and tried choking her, the station reported
On Wednesday, Carmack was arraigned on two counts of assault and battery, domestic assault and battery, filing a false police report of a felony and stalking.