Saline house fire deemed suspicious, but cause still isn't known
Posted on Mon, Feb 21, 2011 : 1:49 p.m.
Investigators say the cause of a fire that gutted a rental house on Saline's west side earlier this month appears suspicious.
The exact cause of the Feb. 4 blaze that significantly damaged the two-story structure at 658 W. Michigan Ave. is still under investigation. Police reports show the fire started in a bedroom, and investigators couldn't narrow down a cause there.
Art Aisner | For AnnArbor.com
Reports did not note any obvious signs of arson or criminal activity at the scene.
No people were in either unit inside the converted house at the time of the afternoon fire, but four pets were incapacitated by heavy smoke. Firefighters rescued two dogs and a cat that were revived on the scene by Huron Valley Ambulance paramedics, said Saline Area Fire Chief Craig Hoeft. Jack, a second cat that belonged to resident Janie Young for nearly 15 years, died from severe smoke inhalation.
Young's cat Turbo and dog Baby, a Cesky terrier, were treated at the Saline Veterinary Service and were returned to Young within days of the fire. Young said she wasn't surprised the fire was deemed suspicious because she didn't have electronic equipment plugged in or any lit candles in the bedroom.
Hoeft declined to discuss the investigation further.
Julia Clark, who lived upstairs, said her golden retriever Gracie is fully recovered. She discovered her cat, Picasso, inside the home a few days after the fire when she went to retrieve some belongings.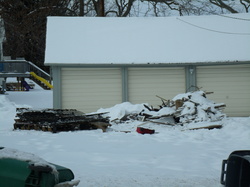 Art Aisner | For AnnArbor.com
Clark initially feared the pet died from the smoke, but filled his food bowl just in case. Property owner Pete Toarmina was able to re-establish heat service to the home the day after the fire, which probably helped him survive for a few days, she said. Clark said she is staying with friends in northern Ohio while trying to determine where she will resettle.
Young and her 17-year-old son haven't made permanent arrangements. She said she's not sure whether they'll remain in the Saline area.
Young said she lost the majority of her belongings to smoke and water damage, which was significant on the first floor. The Washtenaw County chapter of the American Red Cross assisted with immediate housing and other necessities.
Official damage estimates haven't been determined, according to reports. But Laurie Toarmina said the fire was devastating both monetarily and emotionally.
"My heart is broken over this because it's never going to be the same," she said of the 150-year-old property, which she and her husband purchased nearly eight years ago. "We're going to try and totally rebuild the downstairs."
Art Aisner is a freelance writer for AnnArbor.com. Reach the news desk at news@annarbor.com or 734-623-2530.