Saline Community Fair to feature new activities aimed at children
Posted on Mon, Aug 27, 2012 : 6:49 p.m.
The Saline Community Fair has something new lined up for kids this year — their very own parade.
This year, instead of the traditional downtown parade, fair officials have decided to replace it with a parade on Saturday, which is Children's Day, at noon.
"It's a way to save money and get more kids to participate," said Cindy Radak, assistant treasurer for the Saline Fair Board. She said that last year they couldn't get a lot of people to participate in the parade, nor were there many parade watchers.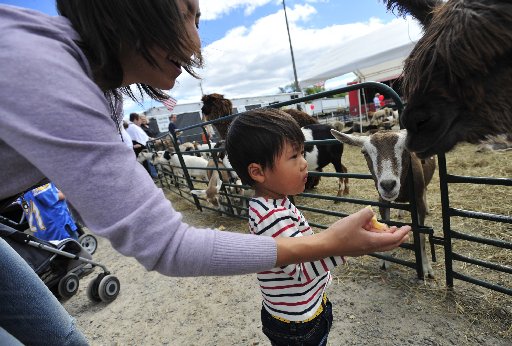 AnnArbor.com File Photo
The fair opens Tuesday and will run through Sept. 3, at the Washtenaw Farm Council Grounds at 5055 Ann Arbor-Saline Road.
The fair has a 77-year history dating back to 1935. It was in 1944 that it was reorganized for the purpose of involving the community and recognizing the skills, talents, recreation and interests of area residents by holding an annual fair.
Ken Ernst, president of the Saline Fair Board, says this year's fair also will incorporate more exhibits and activities for youth. It's the second year the fair will be held just before school starts.
"We moved the fair back a week last year to increase attendance because once kids start school they're too busy to participate," said Radak.
On Tuesday, the rides will open, animal judging begins and the Miss Saline Pageant takes place. Senior Citizens Day is Wednesday, when those 65 and older will be admitted free until 1 p.m. There also will be antique appraisals that day from 2-4 p.m.
Friday is Ladies' Day, which will include a pie contest and a coffee cake contest. "Saline's Got Talent" also will take the stage that day at 6 p.m. The fair concludes Labor Day weekend with livestock events, a tractor pull, and a variety of live entertainment.
"I believe the common goal of all the volunteers and exhibitors is to provide the community with as many opportunities as possible to educate folks about our local rural heritage and to promote the fair as a tool for doing so," stated Ernst.
The regular admission price is $7 and there are special rates every day. For a schedule of events at the Saline Community Fair, click here.