Board approves Saline schools support staff contract with $.5M in concessions
Posted on Wed, Jul 11, 2012 : 8:02 a.m.
Saline Area Schools bus drivers, janitors, cafeteria staff and other support personnel agreed to wage and benefit concessions that will prevent the district from cutting or privatizing employees.
The Board of Education ratified a two-year contract Tuesday for the Saline Education Support Personnel (SESP) collective bargaining unit. It will go into effect immediately and expire June 30, 2014.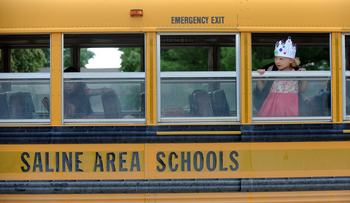 AnnArbor.com file photo
A tentative agreement was reached June 28 between district officials and union representatives. The full union approved the agreement Monday.
Support staff took a 4 percent salary-on-scale reduction for the first year of the contract. The second-year reduction will be based on whether the State Senate passes the Michigan Public School Employees Retirement System reform legislation, said John Kava, attorney for Saline schools.
The Senate failed to vote on the MPSERS reform bill in June prior to recessing for most of the summer. The Senate will conduct two additional sessions, one July 18 and one Aug. 16, prior to resuming a regular schedule for the fall.
Kava said if the MPSERS reform bill passes in the Senate, as it did in the Michigan House of Representatives, and the retirement contribution rate decreases from about 27 percent to about 24 percent, SESP employees will experience a 2 percent pay cut, rather than 4 percent, for the second year of the contract.
The MPSERS reform would save Saline schools about $1.03 million, according to a House analysis.
Also as part of the new contract, Kava said the SESP gave up a number of fringe benefits, employees' deferred compensation as well as some "cash-in-lieu-of" payouts for health insurance. In total, the concessions equate to about $550,000.
"We can't thank you enough," said school board President Lisa Slawson to union members during Tuesday's meeting. "You guys, the ESP, have given and given and given to us and please do not think that we don't know that. We take note. … And as a parent … I always say it takes a village and … that's what makes (Saline) a special place to send our kids."
On June 26, the Board of Education passed a $48.6 million budget that called for about $3 million in cuts, including laying off 16 to 17 certified teachers and either $830,000 in concessions from the SESP or privatizing as many as 100 support staff.
But the following day, the board ratified a two-year contract for the Saline Education Association that will save the district an initial $2 million and about $7.5 million over two years.
Trustee David Zimmer also praised the SESP union leadership Tuesday and the school administration.
"You looked at the situation and said how can we do what's right and how can we put us in the right position financially for the long term, and make sure employees are well compensated with a good benefits package in the process. And I think we've done that," Zimmer said. "And that's really a compliment to the leaders… I know it's been a long struggle for you for many years, but the fact that you've been able to work together … be proud of yourselves. You've done great work for us. Thank you."
Union leaders declined to comment on the outcome of the collective bargaining negotiations, but said privatization is never off the table and the district brings it up each contract.
The Saline Area Schools Administrators Association contract, which expired June 30, has not been finalized yet. The negotiations are ongoing.
Kava told AnnArbor.com district leaders and attorneys will be approaching those negotiations with "full-fledged force" now that the other contracts have been ratified. He said they tried to focus on one at a time.
Kava said he does not expect the contract to come before the board in July, largely due to the number of people on vacation. He declined comment on whether the contract would be finalized in August, before the start of the school year, but said all are "hopeful" the discussions are "moving forward."
Staff reporter Danielle Arndt covers K-12 education for AnnArbor.com. Follow her on Twitter @DanielleArndt or email her at daniellearndt@annarbor.com.