Saline Reporter:

1-year review shows benefit of Saline High School police liaison officer

Posted on Mon, Jul 16, 2012 : 12:02 p.m.
After a year of partnering with Saline Area Schools to provide a police officer at Saline High School, Pittsfield Township officials are pleased with the impact, according to a Saline Reporter article.
Tiffany Small, Saline's police liaison officer, recently gave a presentation to township officials detailing how she spent her time in the district during the past school year.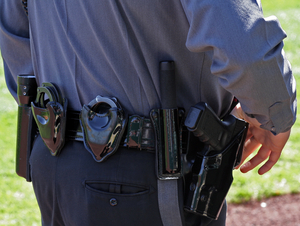 Timthephotoguy | Dreamstime.com
In August 2011, Pittsfield and SAS
entered into a three-year contract
for Small's service at the high school.
Saline is paying half the cost of hiring the senior officer — about $47,500 annually — as well as 100 percent of the overtime costs for football games and other events. The total cost of the liaison officer is $95,172 per year.
The Saline Reporter article said Small spent 40.9 percent of her time conducting criminal investigations at the school and 26 percent of her time monitoring the hallways and being visible during lunch hours.
She handled a couple of weapons threats and worked with substance abusers at the school, the Saline Reporter said, and in May, she helped lock down the school during a bank robbery in Saline.
Tom Daugharty, an officer and member of the 2012 School Educators Police Liaison Association Advisory Council, told AnnArbor.com the association saw a resurgence of school liaison officers this past year. At SEPLA's annual conference, conducted June 19-21 in Mount Pleasant, 17 of the conference attendees were new to their school assignments.
"In the last five years, with all the schools were dealing with, we were seeing a fall off of school liaison officers," Daugharty said. "But the last couple years, the trend seems to be that the officers are returning. … Which, of course, is the agency's hope because we really see the benefit of this relationship."
In the $188.5 million budget the Ann Arbor Public Schools' Board of Education passed in June, the board approved ending the district's contract for police liaison officers through the Ann Arbor Police Department. The decision to eliminate the police presence at Ann Arbor's three comprehensive high schools — Huron, Pioneer and Skyline — saved the district $350,000.
Read the complete Saline Reporter article here.
Staff reporter Danielle Arndt covers K-12 education for AnnArbor.com. Follow her on Twitter @DanielleArndt or email her at daniellearndt@annarbor.com.