Rising up through the ranks: Former patrol officer John Seto is Ann Arbor's new police chief
Posted on Thu, Jul 12, 2012 : 11:41 a.m.
Nearly four months after being appointed Ann Arbor's interim police chief, Deputy Chief John Seto is taking over the position of top cop on a more permanent basis.
Mayor John Hieftje said the decision was made by City Administrator Steve Powers after reviewing multiple applications for the position.
Seto's appointment to the position on a full-time basis is being brought forward at Monday night's City Council meeting as a recommendation from Powers. Hieftje is confident other council members will join him in confirming Seto's appointment.
"It's clear that John was the most qualified person," Hieftje said. "And I think even during the interim period, he has far above proven himself. I've gotten just really strong feedback from the community regarding his ability and leadership and I witness it myself."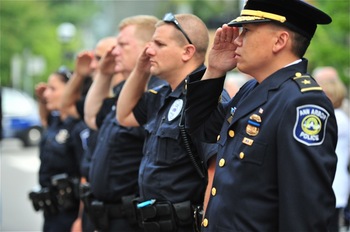 Ryan J. Stanton | AnnArbor.com
Seto, who will oversee both the police and fire departments as the city's safety services administrator, said he's humbled.
"It's an honor to be offered the position," he said. "I'm grateful to be able to continue my services to the city as safety services administrator. I'm also thankful because I know the quality of people who work in both the police and fire departments. We have great people who are dedicated to providing outstanding public safety services to the community."
Seto has worked for the Ann Arbor Police Department for more than 20 years and has extensive patrol, detective and management experience. He started as a patrol officer in 1990 and is believed to be the first police chief in decades to organically rise up through the department's ranks, as opposed to the city appointing a chief externally.
"An internal promotion of a candidate who meets the position's requirements of leadership, management experience, community involvement, judgment and trustworthiness is healthy for the police department," Powers said in a statement.
The safety services administrator is responsible for the administrative supervision and leadership of police services, fire services and emergency management, with a combined budget of $39 million and 228 employees. Seto will report to Powers.
Pending confirmation of his appointment by the City Council, Seto's new annual salary will be $123,000. Barnett Jones, the city's last police chief, had a base salary of $126,500.
Jones announced in February that he planed to retire at the end of March. When he left, following years of budget cutbacks in both the police and fire departments, he said he was ready to retire after nearly 40 years in law enforcement. But less than a month later, he accepted a job as public safety administrator for the city of Flint.
City records show Jones made $137,632 in total wages in calendar year 2011, while Seto made $116,462 as deputy chief. Seto's listed base salary was $108,264.
Greg Bazick, the Ann Arbor Police Department's other deputy chief, made $119,038 in total wages in 2011. His listed base salary was $109,366.
The police department's budget for the fiscal year that started July 1 includes funding for two deputy chiefs. Seto said he hasn't yet decided who might fill his old position.
"It's hard work but it's been rewarding," he said of his short time as police chief. "I'm really grateful to continue because I have a great love and passion for this police department."
Hieftje said he meets with Seto every week to review crime statistics and trends and to discuss general public safety issues facing Ann Arbor.
"John has really stepped up enforcement downtown," Hieftje said. "We're seeing the bicycle police again and we're seeing the police on foot.
"And the arrest rate, I think, is interesting because people do crimes and they get caught," he added. "We had some armed robberies earlier in the year. We had four perpetrators and three are under arrest now and we're hot on the trail of the fourth one."
Esther Choi, daughter of the Broadway Party Store's owner, spoke before the City Council in May about an April 9 incident in which her father was robbed at gunpoint. At the time, the perpetrators were still on the loose and the family wanted the case resolved.
Seto arranged a meeting to discuss the case with the family. A few days later, Ann Arbor police arrested a 20-year-old man suspected of being part of the brazen robbery duo.
The case is still under investigation and the department is actively working to catch the second robber. At this time, only the one suspect has been charged.
Seto has a bachelor's degree from Eastern Michigan University and graduated magna cum laude. He has continued his education and professional development at EMU as well as with the Federal Bureau of Investigation and holds firefighter certifications.
In addition to his policing experience, his administrative experience includes employee relations and labor negotiations and budget preparation and management. He was appointed deputy police chief for the operations division in 2008.
"Our primary focus is always going to be public safety and we'll continue to develop our relationships and partnerships with the community," Seto said of his plan going forward. "I think we have the foundation, so we want to continue to reach out to the community, whether it's the businesses or the neighborhoods, to attend meetings and hear concerns."