Teens escape burning home in Pittsfield Township
Posted on Fri, May 18, 2012 : 2:58 p.m.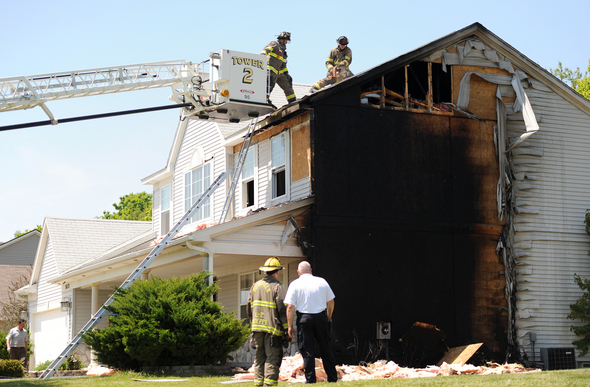 Angela J. Cesere | AnnArbor.com

Two people escaped without injury when a fire broke out at a Pittsfield Township home Friday afternoon.

The fire started outside at or near an electric meter, traveled up the siding on the house and spread into the attic and the interior of the two-story home in the 5100 block of Hickory Pointe Boulevard, said Pittsfield Fire Chief Sean Gleason.

The siding on the house was in flames when firefighters arrived. By the time they had a hose inside, it had spread up into the attic, Gleason said.

Two teenagers who were home were outside when firefighters arrived, Gleason said.

The fire was reported at 1:13 p.m. Gleason said. Firefighters had it under control in about 20 minutes.

Crews were still on the scene shortly after 2 p.m. making sure there were no hot spots that could rekindle. They were also waiting for DTE Energy to arrive to shut off power so they could investigate whether the fire started at the electrical meter.

The home suffered fire, smoke and water damage throughout, Gleason said, and was not habitable. The residents were planning to stay with friends, he said. Firefighters estimated fire, smoke and water damage at $60,000-$70,000.