Rep. Mark Ouimet bill would create voluntary income tax check-off for Red Cross chapters in Michigan
Posted on Fri, Apr 8, 2011 : 11:32 a.m.
Michigan taxpayers would be able to easily donate money to help fund Michigan chapters of the American Red Cross under legislation unveiled today by state Rep. Mark Ouimet that creates a voluntary check-off on state income tax returns.
The bill introduced by Ouimet, a Republican from Washtenaw County's Scio Township, would create the American Red Cross Michigan Fund to be used to assist state chapters.
The Red Cross provides relief to disaster victims and helps people prevent, prepare for, and respond to emergencies.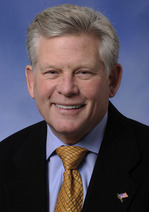 "An income tax check-off creates a built-in funding mechanism that will advance the Red Cross' laudable mission for generations to come," Ouimet, former chairman of the Washtenaw County Chapter of the American Red Cross, said in a statement. "The check-off empowers taxpayers to help residents who truly are in immediate need."
Revenue generated from the check-off would be distributed to Red Cross chapters throughout the state. Michigan currently has 10 voluntary check-offs for various nonprofit groups and issues. Last year, the United Way check-off received $244,373 with 5,877 total contributors.
"The money generated by this new check-off would go directly to Michigan Red Cross chapters to support their worthy efforts," Ouimet said. "It's neighbors helping neighbors. With more funding, our Red Cross chapters could do even more to improve our communities."
HB 4497 is now under consideration by the House Tax Policy Committee.