Rain, cooler weather moving into Ann Arbor area
Posted on Thu, Aug 9, 2012 : 6:35 a.m.
Parched lawns and gardens will get a much-needed drink as rain and significantly cooler weather moves into the Ann Arbor area Thursday. The cooler, wet weather should stick around for a couple of days, the National Weather Service says.
The forecast for Thursday calls for showers, with thunderstorms possible after 8 a.m. The high temperature will be near 76. The chance of precipitation is 100 percent, the weather service says. New rainfall amounts of between a quarter and half an inch are possible.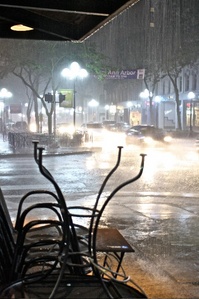 Photo courtesy of Angela Todd
Gardeners and farmers will welcome the rain as Washtenaw County continues to be in the grip of a widespread drought in the United States. The Ann Arbor area had received 14.85 inches of precipitation — 6.71 inches short of normal -- as of July 31, as recorded at a University of Michigan weather station on North Campus, said weather observer Dennis Kahlbaum.
After a wet and cloudy day, showers and possibly a thunderstorm are also expected overnight Thursday, with the low dropping to around 61. The chance of rain is 100 percent with new rainfall amounts between a half and three quarters of an inch possible.
Showers and possibly a thunderstorm are likely again Friday with a high near 71. The chance of rain is 90 percent. New rainfall amounts between a quarter and half an inch are possible.
More showers are possible Friday night with a low around 57. The chance of rain drops to 60 percent.
Saturday, there's a 50 percent chance of scattered showers. Mostly cloudy skies are expected with a high near 71.
Sunny skies will return for Sunday with a high near 77.
For weather conditions and forecasts any time, check AnnArbor.com's weather page.