False alarm: 'Puff of outside air' causes Ann Arbor Fire Department to investigate gas odor in city hall
Posted on Mon, Sep 24, 2012 : 2:59 p.m.
Ann Arbor officials say a "puff of outside air" is responsible for causing a brief scare inside city hall on Monday morning, filling the main lobby with the faint smell of gas.
The Ann Arbor Fire Department arrived on the scene shortly after 10 a.m. to investigate, tracing the ordor to a mishap resulting from scheduled maintenance on the fire suppression system.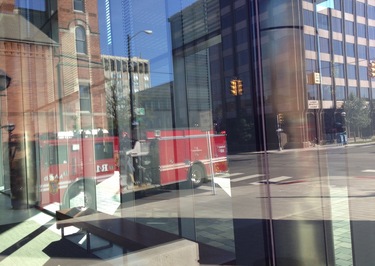 Ryan J. Stanton | AnnArbor.com
Matt Kulhanek
, the city's facilities manager, briefed city officials on the incident in an email Monday afternoon, explaining a fire alarm was triggered during the maintenance as anticipated.
"This alarm was not audible as is was anticipated by the contractor," he said. "The alarm triggered an elevator pressurization fan to activate and also shut off the building's air-handling unit."
Kulhanek said that created "a puff of outside air" to be drawn into the elevator shaft that included exhaust from the natural gas boilers.
"The odor lingered in the elevator lobbies because the air handler unit was shut off by the fire alarm," he said. "The safety unit contacted the fire department who came over to test the air for contaminants. The level of potential contaminants in the air were non-detectable."
Once the air handler unit was returned to service, the odor was eliminated from the building, Kulhanek wrote in the email.
Bob Cariano, the city's safety manager, said city employees were not evacuated from city hall during the incident. They carried on their work as usual as visitors came and went from the building.
"The odor was not that strong," he said. "If you ever get a puff of propane off your grills, sometimes you get a smell of gas. It was just a light smell and the only place we smelled it was at the elevator lobby, so it wasn't anything to be real alarmed about."
Cariano said what happened was a function of the high-tech nature of some of the new components in city hall, which was renovated in the last few years.
"It was just one of those things that happened and everything happened at the same time," he said. "We acted like we should have and put the employees first and made sure everything was safe."