Public health officials considering mosquito control after woman's death from West Nile virus
Posted on Fri, Aug 17, 2012 : 2:59 p.m.
After a Washtenaw County woman recently died from West Nile virus, local public health officials are considering whether mosquito control measures should be enacted.
"We're assessing if we need to make a recommendation to the local communities," said Laura Bauman, epidemiologist for Washtenaw County Public Health.
The Michigan Department of Community Health announced the death of the Washtenaw County woman Thursday. Health officials said the woman is between the ages of 75 and 85 but released no other information about her. The woman is the first person to die from the virus in 2012 in Michigan.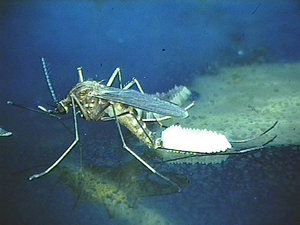 The Centers for Disease Control and Protection
Bauman said the health department will not release where the woman is from or where she was before she got sick.
"All of southeast Michigan is at risk," Bauman said. "We don't want to give that message that in one part of the county, you're safe."
Bauman described the woman as "active" and the kind of person who didn't just sit inside.
Though the risk of West Nile virus from mosquito bites is real, most people bitten by an infected mosquito are not going to become ill, said Susan Ringler-Cerniglia, spokeswoman for the health department. The Centers for Disease Control says people over the age of 50 are more likely to get sick if exposed to the virus.
The virus can cause a mild illness to severe illness -- including encephalitis or meningitis, which are inflammations of the brain -- in humans and other animals.
Health officials said the virus is very active in Washtenaw County this year. Dead bird reports collected by the health department through its hot line (734) 544-6750 have indicated widespread activity of the virus in birds across Washtenaw County, Ringler-Cerniglia said.
After consulting with experts at the state level, the county's environmental health department will be following up with municipalities if further action needs to be taken, Ringler-Cerniglia said.
"The thing that's tricky about West Nile - this isn't a wetland mosquito," Bauman said of the Culex mosquito that transmits the virus from birds to humans. "They just need a small amount of water and small amount of organic matter (to breed)."
Experts stated in July that the hot, dry conditions this summer were "very suitable for an epidemic" of West Nile virus this year.
With budget constraints in recent years, many municipalities that used to have mosquito population control programs stopped funding them. Because nuisance mosquitoes have not been a problem this year, likely because of the drier weather, not many early precautions have been taken, Ringler-Cerniglia said.
In years past, some communities - including Ann Arbor - have put larvicide in storm drains to stop the mosquitoes' eggs from hatching.
Dallas County, Tx. launched aerial spray offense this week to combat a mosquito population that has caused the nation's worst outbreak of West Nile virus. To date, the virus is responsible for killing 10 people and sickening at least 230 others in Dallas County.
"We're not sure if at this point in the season if larvicide would even be helpful. That's why Dallas did the spraying," Bauman said. "To interrupt a human epidemic, you would have to take down the adult mosquito population."
As of Aug. 16, 30 cases of West Nile virus have been reported in Michigan this year, three of which were in the city of Detroit, and the remainder in the following Michigan counties:
Macomb: 8 cases
Wayne: 8
Lapeer: 1
Livingston: 1
Ingham: 1
Kent: 3
Allegan: 1
To avoid contact with the Culex mosquito that carries the virus, experts advise to wear long sleeves and pants, as well as insect repellent that contains DEET when going outdoors in the morning and evening when the mosquitoes are the most active. Window and door screens should be repaired. Containers of standing water should be emptied.