updated at 10 a.m.:

Power outages and downed trees follow Thursday morning storm

Posted on Thu, Jul 5, 2012 : 7:35 a.m.
This story was updated at 6:30 p.m. with estimates that power will be restored Sunday night for about 2,000 in an area south of Ann Arbor.
A thunderstorm early Thursday morning resulted in power outages and scattered downed trees across Washtenaw County.
Lucy Ann Lance | From Facebook
About 5,000 DTE Energy customers are without power in Ann Arbor and Pittsfield Township, with the areas of concentration near I-94 and the Scio Church Road; east of Stone School Road from Eisenhower south to Textile; and along South Industrial.
Other areas affected by power outages this morning - since about 5 a.m. - are areas of Dexter, Chelsea and Manchester.
A total of about 15,000 DTE Energy customers in the county were without power as of 1:30 p.m. according to DTE spokesman Len Singer, power is expected to return to normal by late Saturday. According to the DTE Energy outage map, about 2,000 customers south of Ann Arbor face an estimated restoration time of Sunday night. The outages are the result of approximately 30 downed power lines in the county.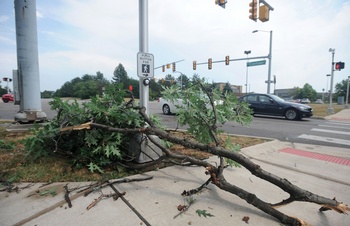 Angela Cesere | AnnArbor.com
Singer said crews are working 16-hour shifts around the clock in order to restore power to the region as quickly as possible. A total of 210,000 people are without power in Southeast Michigan, with the greatest concentration in Oakland County.
To report power outages, DTE is asking customers to use their website as the company's phone lines are currently tied up.
The outage follow a line of storms that went through the county and beyond, resulting in an estimated 200,000 customers without power in Metro Detroit, including an area near Metro Airport and many properties in Oakland County.
Emergency crews were responding to calls of downed trees on Thursday morning, too. Affected areas include Pontiac Trail and Earhart Road. Barton Park also was closed at about 8:15 a.m. due to power lines near the road.
The storm took place during the last hours of an excessive heat watch that had been issued for the area until 8 a.m. Thursday.
That watch has been upgraded to a warning that also has been extended until 9 p.m. Friday, as forecasters warn that the extreme heat affecting the area will continue.
With the heat warning, officials say:
* High temperatures will reach the upper 90s to around 100 degrees.
* Overnight temperatures will only cool to the middle and upper 70s.
* High humidity will result in heat indices from 105 to 110 both today and Friday.
This story will be updated.