Updated at 1:10 p.m.:

Exterior gas leak reported at Briarwood Mall

Posted on Fri, Mar 1, 2013 : 12:50 p.m.
Ann Arbor police and firefighters closed down a portion of the Briarwood Mall parking lot after a puncture in an exterior gas line was discovered Friday.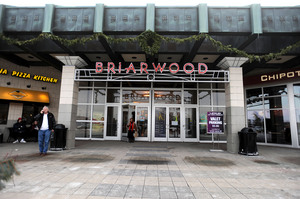 Angela Cesere | AnnArbor.com file photo
Ida Hendrix, manager at Briarwood Mall, said DTE Energy workers were on scene at 12:40 p.m. Friday repairing the gas line. She said the mall is open for business while repairs are being done, but the restaurants Chiptole and California Pizza Kitchen are closed.
The entrance near the restaurants was closed at one point, but it was reopened by 1:10 p.m. Hendrix said those restaurants would remain closed until the repairs were finished.
"Police have the affected area of the parking lot cordoned off but the mall is open for business," she said.
Hendrix said DTE is expected to be done with the repair by 3 p.m.
Check back to AnnArbor.com for more updates on this report when they're available.