Posted on
Wed, May 8, 2013 : 5:59 a.m.
Planning Commission: Affordable housing should be part of plan for South State Street
By Amy Biolchini
Affordable housing should be a part of a long-range planning document for future uses of properties along the South State Street corridor, according to Ann Arbor Planning Commission members.
The commission met in a working session Tuesday night to comb over a draft copy of the South State Street Corridor Plan before it goes to a public hearing May 21 and before the commission votes to adopt it.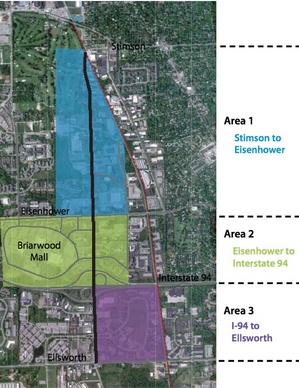 City of Ann Arbor
South State Street is a major route in and out of the City of Ann Arbor and has been criticized for its auto-centric nature and sprawling development.
The plan includes a number of goals and specific actions for Ann Arbor and Pittsfield Township properties along the corridor, including a map of preferable land use for future developments.
The plan will eventually become a part of the city's master plan, said Jeff Kahan, city planner.
"This is the first master plan document in which we're using the sustainability framework as a foundation," Kahan said. "That was a challenge for us."
Kahan explained the sustainability framework included both environmental and economic sustainability considerations for the corridor.
The intent in designating specific preferred land uses along the corridor is to guide the consideration of future proposed developments.
"This way we can send away projects that really don't add value to the corridor," said Wendy Rampson, city planning manager.
The plan for South State Street is intended to guide development of higher density activity in the area - including possible elevated parking structures in the Briarwood Mall parking lot - as well as to make the area friendlier to community activities, including public art installations and community gardens.
In discussing the plan Tuesday night planning commission members brought up their desire to include affordable housing in the plan for the area.
"We really don't have a tract for affordable housing anywhere in this," said planning commission member Eric Mahler. "If it's going to be a real goal of ours to get affordable housing in this corridor somewhere … it's not clear to me how we're going to make this a priority."
Citing McKinley Inc.'s recent public announcement of its intentions to build affordable housing units behind the McKinley Executive Centre at 2245 S. State, Mahler said it was an unusual circumstance and that most developers would likely not be interested in similar projects.
"McKinley's comments aside, it's hard to see how affordable housing's going to develop in this area," Mahler said.
Rampson reminded the planning commission that affordable housing planning is a challenge facing the entire city, not just the South State Street corridor.
To best guide future development, Rampson suggested specific sites or buildings be identified and worked in to the plan as places the planning commission thinks are best suited for an affordable housing development.
There will be a public hearing 7 p.m. May 21 in City Council chambers on the South State Street Corridor Plan.
Amy Biolchini covers Washtenaw County, health and environmental issues for AnnArbor.com. Reach her at (734) 623-2552, amybiolchini@annarbor.com or on Twitter.