Pittsfield Township's Arbor Woods subdivision residents looking for ways to calm traffic
Posted on Sun, May 22, 2011 : 5:58 a.m.
Residents in the Arbor Woods subdivision in Pittsfield Township have been trying to find ways to slow the traffic that travels through the housing complex on Hawks Avenue since 2005.
Twice, residents have met with Washtenaw County Road Commission officials expressing their concerns about traffic and speeding in the subdivision.
Subsequently, in two areas of the subdivision, speed "humps" and islands were installed to calm traffic on Hawks Avenue, a road that residents say is used as a cut-through for traffic because there are connections to Packard Boulevard and Carpenter Road.
"Residents say at night, when the stores close, there's a sudden surge to get through to Packard," said Doug Fuller, chairman of the Road Commission board.
Roy Townsend, director of engineering for the Road Commission said Tuesday afternoon that in 2008, a traffic study was conducted and nine speed humps and two islands were added in the northern part of the subdivision at the homeowners' expense.
Then, in the spring of 2010, five speed humps and one island were installed in the southern part of the subdivision. But when residents reported that speeds had not changed, another traffic study was conducted that showed the speeds had decreased by 2-3 mph.
The speed limit in the subdivision is 25 mph, and township police have worked with residents in the area, staff said. But residents said that the increased traffic had not abated.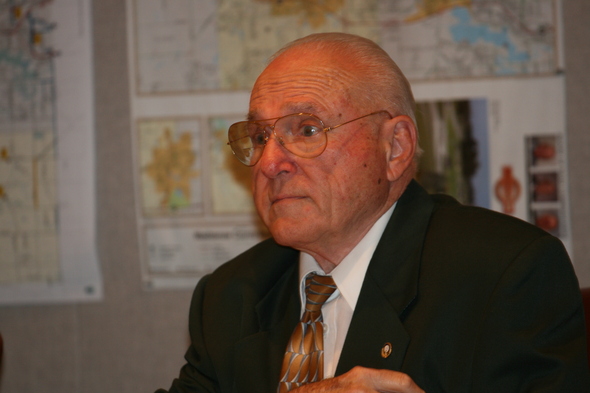 Lisa Allmendinger | AnnArbor.com
"I have a real problem with this," said Road Commissioner
Fred Veigel
. "You keep calling it a cut through, these are public roads and people can drive through just like they can drive on any public road; you could say that about any road in our jurisdiction."
Townsend said that residents are still concerned about the "large amount of traffic that travels these roads."
One option would be to turn the public roads into private roads but then the homeowners' association would have to maintain the roads, which is costly.
The homeowners asked the Road Commission to consider three ways to try and solve the problem. One suggestion was to make the Hawks Avenue and Packard Road intersection a right-turn in with full access out of the subdivision.
The second idea was a right turn into the subdivision and a right turn out of it. A third option was a right turn into the subdivision only to limit the additional traffic.
"This is nothing we've done with a residential street before," Townsend said about the restricted access, although these are solutions that the Road Commission has used for access to commercial properties.
As it was a discussion topic for the Road Commission, no decision was made, but staff was encouraged to continue working with the homeowners to find a solution.