Pittsfield Township firefighters extinguish mobile home fire
Posted on Thu, Apr 1, 2010 : 2:30 p.m.
A mobile home in Pittsfield Township was gutted by fire this afternoon.
Neighbors called 911 to report the blaze at about 12:51 p.m. in the Saline Meadows mobile home park. No one was home at the time, and it's not yet clear how many people lived there, township Fire Cmdr. Sean Gleason said.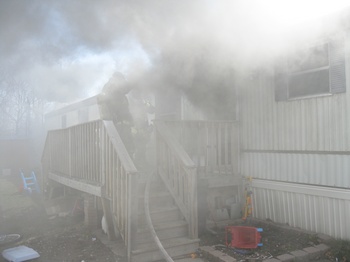 Photo courtesy of Pittsfield Township Fire Department
When firefighters arrived, heavy smoke and flames were coming from the mobile home, Gleason said. Crews went inside and searched for any occupants, then extinguished the fire.
Gleason said firefighters were able to save part of the structure, but due to the damage both inside and to the siding, it will likely be deemed a loss.
The cause of the fire has not been determined. No one was injured.
Damage was estimated at $25,000 to $30,000.