Pittsfield Township couple flew over their home moments before plane crash
Posted on Fri, May 25, 2012 : 2:59 p.m.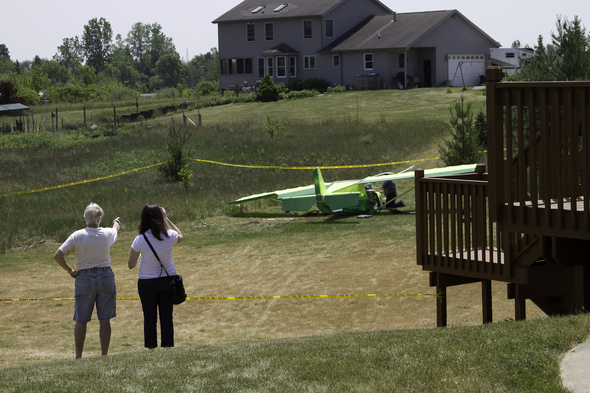 Steve Pepple | AnnArbor.com
Previous story: 2 critically injured when plane crashes in Pittsfield Township back yard
Moments before a Pittsfield Township couple's plane crashed into a back yard at 7099 Warner Road about 11:45 a.m. Friday, their next door neighbor looked up from painting a porch and waved to them as they flew over his home in their neon green home-built plane.
The married couple has lived next door to Dave Diebold for about 20 years, he said, and are fairly adventurous.
Their plane crash landed in a back yard about a quarter mile away from their home on Partridge Way due to an unknown problem.
Huron Valley Ambulance transported the victims to the hospital in critical condition.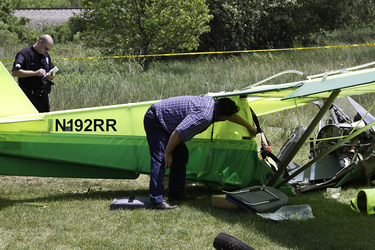 Steve Pepple | AnnArbor.com
The plane passed over
Jan Haupt
's home -- who noticed a strange shadow come across the skylight as she was working in the kitchen.
The plane was silent, Haupt said.
Looking out from her kitchen window at the rear of the home, Haupt said the plane curled around to make a 180-degree turn and swiftly descended, landing with a "big bump and thud" on the small hill right next to her deck in her back yard.
Sliding along the grass, the two-seat lightweight kit plane came to rest in the back corner of Haupt's property.
Haupt ran out to the plane.
The male pilot was slumped over, unconscious, and had raspy breathing, Haupt said.
Next to him, his wife was trying to free herself -- her leg badly broken, Haupt said. The woman was so dazed and confused she could barely speak, Haupt said.
"I tried to calm them down, and made sure they didn't move," Haupt said, explaining she had worked for years as a medical lab technician in an emergency room.
The passenger door of the aircraft had come off in the crash, as did the wheels.
The plane is an Aeros Skyranger II, a fixed-wing experimental aircraft that was built from a kit. The manufacturer is Aeros LTD/Skyranger Aircraft Co.
The frame is covered in a synthetic fabric, said Carl Welke, an aviation safety inspector from the Federal Aviation Administration who was at the scene Friday investigating the crash.
The cause of the crash remains under investigation, Welke said, and won't be released likely for two weeks.
The plane departed Friday morning from the Ann Arbor airport, said Tony Molinaro, spokesman from the FAA's Great Lakes Region in Chicago.