Passionate about parks: Proposal on tonight's Ann Arbor City Council agenda brings out mix of opinions
Posted on Mon, Jul 16, 2012 : 1:59 p.m.
A discussion on the future of Ann Arbor's parks and what protections should be provided to them is expected to take place at tonight's City Council meeting.
In emails exchanged between council members and residents, the debate already is raging over a city charter amendment that would require special voter approval of any future attempts to repurpose city parks for non-park or non-recreational uses — such as a train station in Fuller Park, a proposal that's been under consideration for a few years now.
Here's a sampling of some of the opinions out there and some insight from Mayor John Hieftje on what might happen tonight.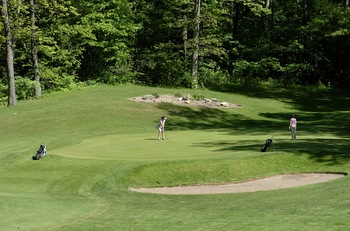 File photo
Karen Hart, former city planning director
I urge you NOT to support this resolution. It would take important decision-making authority away from City Council and would undermine long-range planning efforts in the City. Members of Council are elected not only to represent their ward constituents (who rarely are all of one mind!), but also to consider what is in the public interest for the whole city. In my opinion, that means making educated and informed decisions on my behalf, not hiding behind the cover of, "Oh, we can't decide that, it takes a vote of the people!"
Too often, a "vote of the people" is decided by reactive emotion, incomplete information, or negativity and innuendo (think New Bridge to Canada campaign). Considering what is in the public interest also means making decisions at the Council table to support important policies in approved Master Plans, such as the Transportation Plan, the Parks, Recreation and Open Space Plan, the Capital Improvements Plan, and so on.
Throwing up barriers to a sound and openly-debated decision-making process not only undermines your authority and the thoughtfully-debated master plans, it demoralizes city staff and adds to the cost of government by dragging out decisions and sometimes requiring expensive elections. And, practically speaking, it can lead to missed opportunities because waiting for a ballot vote doesn't allow Council to be nimble.
Jane Lumm, 2nd Ward council member
No one questions that council ultimately has decision-making authority, and, for me, obtaining citizen feedback whenever possible, informs my view, and helps me and other elected officials operate in a manner that, hopefully, is representative of the citizens' views.
The Ann Arbor community values parkland as, in the thoughtful words of one constituent who put it so very well, a "sacred trust." Recognizing that, I think the "bar" is even higher when it comes to respecting and honoring the value placed by our community on our magnificent city parks and recreation resource, and this proposal reflects that "sacred trust" view and value.
Rita Mitchell, Ann Arbor resident
People in Ann Arbor value parks, and want to keep them for the recreational and environmental benefits that benefit all of us. The people of Ann Arbor are not eager to transfer our land to other entities or to use the land for non-park purposes.
If a good case can be made for such a transfer or repurposing, then that case and the associated benefits to the public, should be clear-cut enough that it can be confidently presented for a vote of the owners of the land: The citizens of Ann Arbor. These same voters are responsible for your being in office, and your respect for our decisions is provided for in the resolution offer a ballot to further amend and close a loophole in the City Charter.
I ask that you discuss the resolution and pass it tonight, so that voters can have a say, as they already expect, on how our public park land will be used.
Mayor John Hieftje
The city maintains standing commissions to provide oversight and guidance on different issues, the Environmental Commission, the Planning Commission Energy Commission, etc.
The Parks Advisory Commission (PAC) is charged with making recommendations to the city council on parks related matters. They are dedicated citizen volunteers with a lot of knowledge when it comes to parks. The Chair of PAC believes this proposal should go to PAC for discussion as do other members who have contacted me.
The chair is calling a special meeting for that to happen. Council will still have time to put this measure on the Nov. ballot if they choose.