Heritage Festival a family affair for many residents, visitors
Posted on Sat, Aug 18, 2012 : 1:54 p.m.
The 34th annual Ypsilanti Heritage Festival celebrated everything Ypsilanti Saturday morning with the annual parade beginning at 10 a.m in Riverside Park. High school marching bands, members of the Ypsilanti Community Choir and Ypsilanti Youth Orchestra, boy scout troops and politicians includingRep. John Dingell and Rebekah Warren, D-Ann Arbor, were all there to parade through downtown Ypsilanti.
For many residents, the event is a family affair. Five-year-old Antonio Hawkins was watching with his grandparents.
"There's a certain chain of events Antonio goes through and coming to the Heritage Festival is one of them," said his grandfather Robert Hawkins.
Antonio said he likes watching everybody pass out candy the most. His grandmother, Jasmyne Hawkins, was taking photographs of the parade.
"This is my town, and I like to take photos of everything that happens here and share it with friends around the world," she said.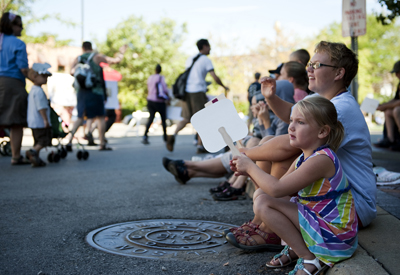 Daniel Brenner I Annarbor.com
The parade landed on day two of the free three-day event and it runs until midnight Saturday, and from noon to 6 p.m. Sunday. Changes to this year's festival include moving the main stage entertainment under the beer tent, which means kids under 18 must be accompanied by an adult.
The festival also showcases a historical area, which this year features a Native Youth Alliance encampment with native dancing and drumming.
"This is our first year at the Heritage Festival, and we have dancers in traditional regalia and native vendors with traditional crafts," said Shoshana Phillips, who is organizing the encampment with her husband Nathan Phillips. "Before Ypsilanti was founded, Riverside Park was used by Native nations because it is the intersection between the Huron River and Michigan Avenue, which was originally a trail."
The Phillips' 12-year-old daughter Alethea Phillips is at the encampment to tell people about the organization Heritage of Healing she founded to help families dealing with cancer and other chronic diseases.
"I'm glad to be here because I think it's a good idea to let people know that Native Americans live in Ypsilanti," said Alethea Phillips.
Artist Rosalinda Vasquez from Kalamazoo was invited by the Phillips to the festival and brought her stone jewelry exhibit.
"I'm a a teacher and supporter of Native American students at Western Michigan University and Grand Valley State and am here to support the culture," said Vasquez.
There will be dancing at the encampment from 1 to 4:30 p.m and 6 to 8 p.m. Saturday and 1 to 4 p.m. Sunday. For a complete schedule of events at the Ypsilanti Heritage Festival, click here.