rich Kinsey | Semper Cop
column:

Coolheaded colleague's pause during stakeout prevents shootout

Posted on Thu, Oct 18, 2012 : 5:57 a.m.
"Slider" was always dependable, so why was he taking so long? We had just gone over our plan to blitz these guys while they were still in their car. I have never been fleet afoot and I wanted to surprise these guys just after they parked. What was Slider doing? "C'mon Slider let's go!" I was getting irritated with one of the most dependable and solid guys I ever worked with.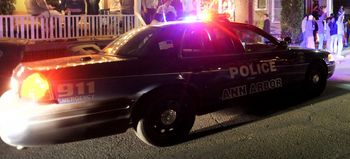 I first remembered Slider from lunches at Drakes Sandwich Shop on midnight shift. In the darkened sandwich shop, where owner Truman Tibbals let cops in the back door to eat on midnights since about 1935, Slider was not eating and joking like the rest of us. He was taking a nap in one of the booths. I asked my field training officer what that was all about.
My FTO explained that after working his 10-hour Ann Arbor Police Department shift on the 6 p.m. to 4 a.m. overlap shift, Slider would head to his other job. Slider would leave the police department and head to the hospital where he worked as a surgical technician in the operating room. In fact, Slider had worked in the University of Michigan Hospital when the police bug had first bitten him in the late 1970s. Slider had to be a cop, so he joined the department.
Slider worked both jobs, and, with the help of his wife "Gigi", managed to raise his children, his grandchildren and foster children under a fine roof of love and support. Slider and Gigi were a team, and better people in the community you would be hard pressed to meet. Active in their church and their community, I am not sure how Slider ever found time to sleep or relax.
That is not to say that Slider did not know how to relax. While we worked together at the Special Investigations Unit, we worked very hard, but we celebrated many successes and partied pretty hard as well. There were several days after celebrations of successful investigations that Slider and I, as well as the rest of the SIU crew, were having to hydrate and hit the aspirin bottle before heading out to the next "target." Those were great times.
Slider also was one of the coolest customers under pressure I had ever seen. While he was working undercover buying drugs, no one had better recall of names and faces.
Slider could remember three license plates on cars in parking lots as he walked up to make a dope purchase. He could memorize the plates, make the deal, remember the dialogue used and the people he had met inside the dope house and report it all in debriefings and report writing several hours later.
When Slider was inside on a deal he was smooth. He could talk fast, smile and get people to trust him. He was always reed thin and did not look like a cop. Dope dealers loved to sell to him. Once Slider wore thick glasses and his actual U-M Hospital lab coat while undercover arresting hookers — who bought the costume hook line and sinker.
There were times Slider actually bought dope from people he had arrested in the past. Slider never missed a beat when confronted by someone he recognized he had arrested before. He would charm the doper all over again, gain his confidence and complete the dope deal.
So what was taking Slider so long on this day? It is not like Slider was not used to armed encounters; he had been in more than his share during his distinguished career. This guy was steady, confident and the type of guy you wanted with you when you went through a door on a raid.
I could not understand what was taking Slider so long to open his door and get moving toward the suspect's car. The plan was all set. Slider and I would just saunter through the parking lot like pals talking and separate at the rear of the suspects' SUV, I'd hit the driver's side, Slider would hit the passenger side.
We would draw down on the suspects, screw a gun in their face, tell them they were under arrest and pluck them out of the car. By that time our backup, parked in the next lot over, would be there to assist.
If we timed this right, there would be no foot chase — which really appealed to me — because we would trap them in their car — trap them in their car, overwhelm them with superior firepower and arrest them. Easy day if Slider would just hurry up!
"C'mon Slider!" I was getting cranky and impatient.
"Just A Second Rodeo!" Slider replied as he fiddled with something. To this day I still do not know what was taking him so long to move.
We approached the bank robber and his passenger. We believed the driver was responsible for several successful armed bank robberies in the area.
Slider and I split up near the suspect's car. When I got closer, I saw the driver zip something into his duffle bag, balanced on the steering wheel in front of him. After doing so he began to open his door.
"Police! Don't move!"
The bandit and his passenger both put their hands up. Our backup arrived, and the two were arrested. We then executed a search warrant on the driver's apartment.
This was a great example of interdepartmental cooperation. The Ann Arbor Police Department, FBI, Washtenaw County Sheriff's Office and Ypsilanti Police Department were all involved and all at the scene within moments of first confronting the suspect.
Later, during the search of the duffle bag, suspect interviews and a group debriefing, I learned that the driver I had approached had just finished zipping his large frame semiautomatic pistol into his bag when I confronted him.
Call it instincts — which you should always trust in a tactical situation — call it luck, but whatever Slider was fiddling with probably saved my life and certainly prevented a shootout. If I had arrived just a few seconds sooner. the suspect would have had the gun in his hand. Thanks Slider….once again.
Lock it up, don't leave it unattended, be aware and watch out for your neighbors.