GUEST COLUMN - JOHN DINGELL
Investment to college aid will help Michigan students
Posted on Sat, Mar 20, 2010 : 1:16 p.m.
This weekend Congress is preparing to make the largest investment to college aid for students and families in our nation's history. For the nearly 21,000 students in Michigan who are eligible for the Pell Grant, H.R. 4872, the Health Care & Education Affordability Reconciliation Act, will ensure they now see their Pell Grant increase with the Consumer Price Index.
For the more than 333,400 students in Michigan who will pay for their education through subsidized loans, this legislation will make their loans more affordable to repay by reducing the Income-Based Repayment Program cap to just 10 percent for new borrowers after 2014. Education opens doors for our people and this legislation will make sure those doors aren't closed due to the cost of college.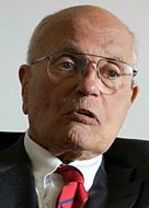 In recent years tuition has been rising sharply, the costs of textbooks have sky-rocketed, and add to that the current financial crisis and not only do families have less to work with, but their plight is compounded - what they have does not take them as far. It is absolutely essential for our country that we maintain the skill, ingenuity, and knowledge to compete in the emerging markets abroad.
If our nation is to compete, educational opportunities cannot be for just a privileged few, but for all those who are capable and willing. I received my education through the GI bill. I understand the benefits that come when our government invests in Americans. These beliefs and experiences have led me to cosponsor and support the legislation now coming to the floor for final passage to reform our student loan system.
Calculations show this bill creates accessibility for students in need of financial aid while restructuring the federal loan programs to protect student loans from market volatility. Under the current Federal Family Education Loan Program, government provides the majority of the funding, students take on most of the risks, while private companies see the all the rewards. By originating all new federal loans through the Direct Loan program, the government will be loaning directing to the student rather than guaranteeing loans offered by private banks.
This results in students and their families accessing loans that are more stable, effective and cost-efficient. Further, this reform will save taxpayers $61 billion over 10 years, $10 billion of which will be used to reduce the deficit. Despite the shift in who holds these loans, the government will continue to rely on private lenders, however, unlike loans through banks, Direct Loans can only be serviced by workers in the United States, thereby preserving and creating jobs that might otherwise be taken overseas.
H.R. 4872 will invest $51 billion of the savings mentioned above to increase student aid and bolster the Pell Grant program, investing $36 billion over 10 years to increase the maximum annual award to $5,550 in 2010 and $5,975 in 2017. For the first time ever the Pell Grant will now increase with the cost of living by indexing it to the Consumer Price Index, permanently increasing the buying power for our students.
Here in Michigan we have seen many of our community colleges overwhelmed by the demand from new students as they serve on the front line in our state's retraining efforts. H.R. 4872 will invest $2 billion in a competitive grant program, which help will help community colleges to develop and improve educational and career training programs. This funding will be critical in assisting displaced workers in their job search and retraining efforts. This legislation will also invest $750 million to expand college access and increase support for students ensuring they complete their degrees. In addition, this investment will provide funding for states and institutions who are developing innovative programs to keep students in school and increase financial literacy.
Without these reforms, nearly 8 million students who currently rely on the Pell Grant to pay for their education could see this financial assistance cut by 60 percent. There are those who ask why we are bundling student loan and health care reform under reconciliation rules. In 2005 and 2007, student loan packages were passed through reconciliation. Parliamentary rules dictate that there can be only one reconciliation measure considered per budget year, leaving us little choice but to package the two together. While I'd prefer separate vote, our Republican colleagues undemocratic obstruction leave us no other choice. This is far too important to allow this window of opportunity to close on us. As Members of Congress we were sent to Washington to improve the quality of life for our constituents, and H.R. 4872 does just that, guaranteeing quality and affordable healthcare and education for all.
U.S. Rep. John Dingell wrote this guest opinion piece on college aid.