OUR VALUES
COLUMN:

Faith & Politics: More than one Christian way to vote?

Posted on Mon, May 14, 2012 : 10:50 a.m.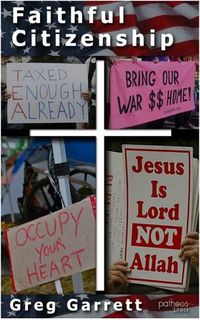 Available on Amazon Kindle.
Editor's note: This post is part of a series by Dr. Baker on Our Values about core American values. This week Dr. Baker is discussing Christianity and politics in America.
Proclamations and invocations of faith are constant companions on the campaign trail, as we've heard throughout this political season. Politicians routinely appeal to scripture to support their policies, and sometimes to attack their opponents.
Has faith been hijacked for political ends? What should be the proper relationship between faith and politics?
In the 2012 campaign, new books are debating everything from the religious beliefs of past presidents to the correct way for Christians to vote. Why focus on Christians? Because a sizable majority of voters identifies as Christian.
This week, OurValues.org looks at one provocative perspective on the question of Christians and politics. Greg Garrett is a well-known author of books on Christianity and popular culture. He has written about everything from comic books and Harry Potter to the rock band U2. This spring, he published Faithful Citizenship: Christianity and Politics for the 21st Century. Each day, I will share a brief excerpt from Greg's new book and ask you to tell us what you think. Greg will be participating, too, so this is a great opportunity for you to influence our national dialogue.
Here's the first excerpt from Faithful Citizenship for your consideration and comment: "In the midst of today's foment and fervor, the central Christian ideals of peace, love and reconciliation are being lost entirely in single-issue voting … and distinctly un-Christian adversarial politics. … Christians on both sides of issues have taken the culture's distinctly unloving methods to heart. As Stephen Carter noted, 'Too many commentators in the media, in politics, and in the academy, make a casual habit of insulting their religious opponents instead of debating them.' Religious people now follow this modus operandi ourselves. If we agree with someone, they are in line with God's will; if we disagree, we consign them—or at least their theology—to the trash heap."
Do you agree with Garrett's observation?
What annoys you most when faith & politics meet?
What political issues are closest to your faith?
Dr. Wayne E. Baker is a sociologist on the faculty of the University of Michigan Ross School of Business. Baker blogs daily at Our Values and can be reached at ourvaluesproject@gmail.com or on Facebook.