Officials: Prescription drug abusers in Washtenaw County younger than ever
Posted on Fri, Jun 1, 2012 : 8 a.m.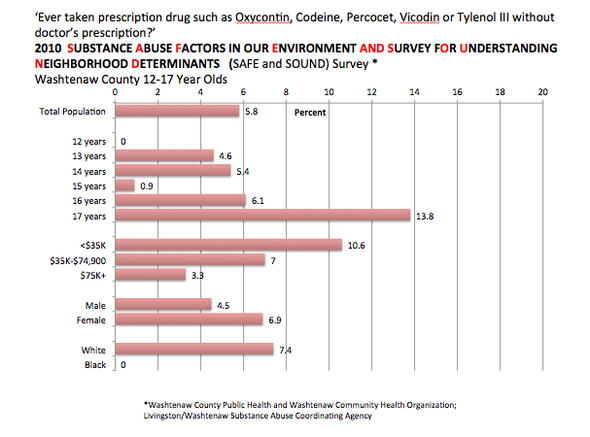 Courtesy of Washtenaw County Public Health

The Washtenaw County health community is beginning to address a growing public health concern that's affecting people at a younger age than ever before: prescription drug abuse.

About 150 professionals met at Washtenaw Community College Thursday for a prescription drug abuse symposium to learn the scope of a nationwide problem that officials say is happening here.

There were 461,893 prescriptions filled for opiates in 2010 in Washtenaw County - which is more than one prescription for each resident, according to the Michigan Automated Prescription System, which tracks all controlled drugs in the state.

In 2010, poisoning by drugs was the second leading cause of death in the county.

"Because this is a community problem, you have to tackle this problem as a community," said Marci Scalera, director of the Livingston Washtenaw Substance Abuse Coordinating Agency.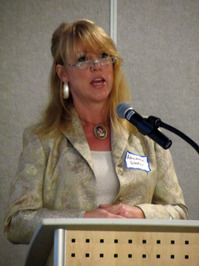 Educators, social workers, psychologists, treatment and prevention specialists gathered to hear a compilation of local data on the issue done by
Adreanne Waller
, senior health analyst and epidemiologist for the Substance Abuse Coordinating Agency.
"This is an epidemic of national proportions," said Dr. John Hopper, a prescription drug abuse specialist who directs the internal medicine residency program at St. Joseph Mercy Hospital, Ann Arbor. "There are solutions at the pen of the subscribers, but also in the community itself."
Only 18 percent of prescription drug abusers have a single doctor from whom they get their medication, Hopper said during his presentation Thursday on the state of prescription drug abuse nationwide.
"This is a disease, and it requires lifelong treatment," Hopper said.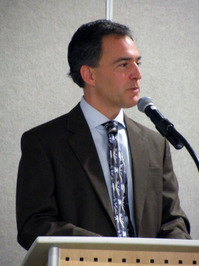 With prescription drugs a common sight in many medicine cabinets, young adults have access to powerful medications that have been known to lead to heroin use.
About 13.8 percent of 17-year-olds in the county admitted to taking a prescription drug like Oxycontin, Codeine, Percocet, Vicodin or Tylenol III without a doctor's prescription, according to a 2010 survey.
Teenagers in Washtenaw County who admitted to taking prescription drugs without a prescription also mostly come from low-income households, Waller said.
Low-income individuals on Medicaid are more likely to be prescribed prescription painkillers because they can't afford alternative treatments to manage chronic pain in other ways, Hopper said.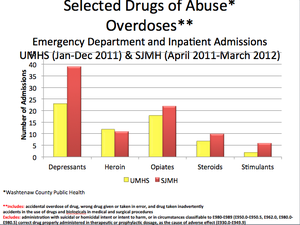 Courtesy of Washtenaw County Public Health
Officials link an increase in prescription drug abuse to a rise in the use of heroin as well, as many individuals addicted to drugs like Oxycontin are known to turn to heroin for a cheaper way to get their fix. Single doses of heroin are more potent and less expensive than the pills whose effects they mimic.
The average age of individuals who overdose on heroin at Washtenaw County hospitals is 20 years younger than the average age of those who overdose on depressants, opiates and hormones.
There were 80 percent more heroin arrests in 2010 than in 2007, according to the most recent data from the Michigan State Police.
MSP also reports that heroin sales and manufacturing offenses have increased by 375 percent in that same time frame, Waller said.
The grade of heroin on the street today is about 90 percent pure and has a low threshold for overdose, Waller said — citing data from the county medical examiner's office.
In the 1960s-80s the grade of heroin was much lower, about 10 percent pure.
Washtenaw County Public Health infectious disease epidemiologist Laura Bauman said young adults comprise a growing proportion of the population with the disease Hepatitis C in the county.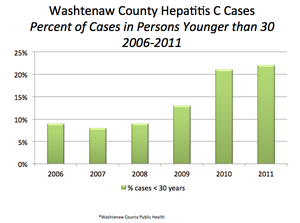 Courtesy of Washtenaw County Public Health
Hepatitis C
is a viral disease that leads to the inflammation of the liver and can be contracted by injecting street drugs or sharing a needle with someone who has hepatitis C, according to the
National Library of Medicine
.
Hepatitis C and heroin activity both correlate with prescription drug addiction, Waller said. Many individuals at the symposium Thursday suggested during the presentation that prescription painkillers need to be more carefully administered.
Hopper said patients especially at risk for addiction to prescription drugs include individuals with:
Smoking addiction
A history of substance abuse
Family history of alcohol or drug abuse, especially with sleep aids
Mental health problems
History of sexual abuse
Prior incarceration
Hopper noted addiction to painkillers often begins subconsciously and eventually affects the development of the brain so the body becomes emotionally and physically dependent on the drug.
Prescribers need to move past the "pill for every ill" mindset to the mentality that "every pill can kill," Hopper said.
Because of a 1990s mandate by the Joint Commission on Accreditation of Healthcare Organizations, prescribers are required to treat pain as a vital sign — and thus an ailment which has to be treated.
Better risk assessments and observations are needed for patients when pain medication is prescribed, Hopper said.
The first step in confronting the problem in the county is assessing the scope of the problem, Scalera said, noting educational strategies on behalf of the health department will move forward from there.