Next steps for $122M in construction projects before University of Michigan regents on Thursday
Posted on Tue, Jul 17, 2012 : 5:57 a.m.
The University of Michigan is looking to increase the budget for an addition to its Institute of Social Research by $6 million, bringing the total cost to $29 million.
The additional money expands the scope of the project to include a 56,700-square-foot addition, up from the 44,700 square feet proposed in 2010.
Portions of the existing ISR building, located on Thompson Street in Ann Arbor, will receive upgrades.
The project will solve a persistent space problem for the institute, an inadequacy that's led some of ISR's centers and programs to seek shelter elsewhere on campus or lease off-campus space.
For example, the institute's Quantitative Methodology Program is leasing the second floor of a building on 777 North University. The 26-month lease costs $83,870 a year and the 20-person program plans to move back to Thompson Street when ISR's expansion is complete.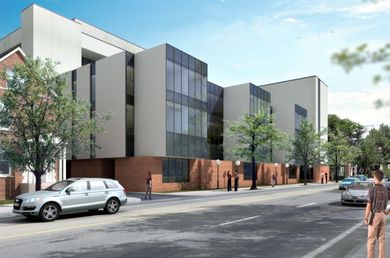 Photo courtesy of the University of Michigan
Funding for the renovation and four-level addition comes in part from a federal grant from the American Recovery and Reinvestment Act of 2009.
The Board of Regents will vote on whether to approve the $6 million budget increase at its meeting Thursday.
Regents will also consider the schematic design for a new $50 million School of Nursing building, which eliminates 125 parking spaces and is scheduled to be completed in 2015.
Additionally, the schematic design for a 700-space, $34 million parking structure on Wall Street, a structure that's incited the concern of local residents, is before the regents for approval.
The board will vote on the schematic design for the $9 million entrance and museum renovation to Schembechler Hall, a football program facility on South Campus.
The Schembechler Hall renovation, new nursing school and parking structure were initially approved by regents earlier this year.
The four projects, when combined, will cost $122 million and are part of a larger construction surge at the school.